THE BEATLES LET IT BE Apple Record RED VINYL import JAPAN insert AP-9009 1970 LP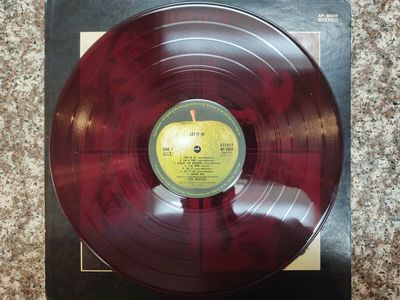 Sold Date: January 4, 2021
Start Date: December 30, 2020
Final Price: $72.51 (USD)
Bid Count: 22
Seller Feedback: 3429
Buyer Feedback: 1493



THE BEATLES - LET IT BE
APPLE RECORDS
AP-9009
JAPAN IMPORT RELEASE
RED VINYL
PHOTOS ARE OF ACTUAL ITEM BEING SHIPPED
If you are unfamiliar with Record Gradings, please do not bid on my auctions.  And, if you have a feedback rating of Zero, please send me a message to let me know how you became interested in my auctions.  Thank you.
I DO OFFER COMBINED SHIPPING FOR AUCTIONS ENDING WITHIN 48 HOURS OF EACH OTHER
EACH ADDITIONAL RECORD is ONLY $.75 SHIPPING
INTERNATIONAL SHIPPING IS $5.75 FOR EACH ADDITIONAL RECORD