AFRIKAN DREAMLAND~OUTSIDE FUNK SOUL 45~LAST CHANCE TO DANCE/NUCLEAR FREEZE~HEAR!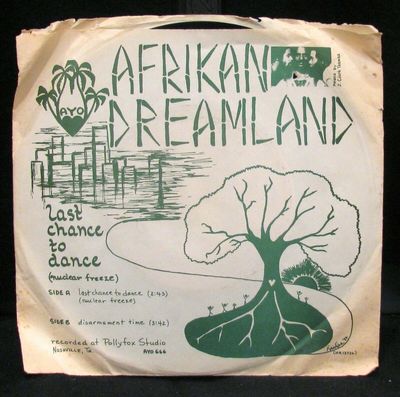 Sold Date: September 27, 2021
Start Date: September 20, 2021
Final Price: $35.00 (USD)
Bid Count: 1
Seller Feedback: 1292
Buyer Feedback: 0
Audio Clips:
To hear audio clips older than 45 days you must become a member. (If you're already a member you need to log in or extend your membership.)
AFRIKAN DREAMLAND

VERY RARE 1983 PRIVATE STOCK NASHVILLE ON AYO
KILLER FUNK 45
"LAST CHANCE TO DANCE (NUCLEAR FREEZE)" b/w "DISARMAMENT TIME" 
PICTURE SLEEVE SIGNED BY BAND MEMBER
LISTEN TO BOTH! 

Rarely found at all and this copy looks and plays great.  Audio and photos of the sleeve and disc will confirm that they look and play nice and clean.  
SLEEVE:
As can be seen from the photos this mega rare sleeve does have some visible age and wear.  More bending and folding around all the sides and the top.  Note the very interesting autograph on the flip side is from none other than AD band member Mustafa Abdul Aleem.  The seller obviously can not confirm that but it seems logical.  

LABELS:
We rely on extreme close-up photos to describe the label condition.  The photos are the actual item being sold and always feature both sides.  Any other issues will be pointed out here.  Both labels look fantastic.  In fact this disc looks to be untouched.  No holes, writing or stickers can be seen.   Photos confirm. 
             
DISC:
We always record the entire track of the actual record being sold.  There are no filters or equalization applied.  The record is recorded "flat".  Buyers should assume that most older records will have some surface, background noise along with a pop or two and sometimes more.  That is why the time is taken to record the full record so you can be the judge as to the audio quality.  This record sounds and looks like it has never been played.  Unbelievably quiet.  There is a noticeable and visible dish warp but it DNAP.  Great record and near mint audio.  Listen and judge.

PRACTICES & POLICIES:
Most records are visually inspected and then washed and cleaned.  Higher valued records will include audio samples of the exact record being listed.  Our photos are also original ones of the exact item.  We do not play grade or rate records. 

Our refund policy is based on total buyer satisfaction so we only refund full payment upon return.  We do not offer post purchase partial refunds.

INTERNATIONAL
We participate in eBay's Global Shipping program.
Powered by eCommercePlayer.com
Powered by eCommercePlayer.com