YES - Close To The Edge 1st UK Press 1972 EX Led Zeppelin textured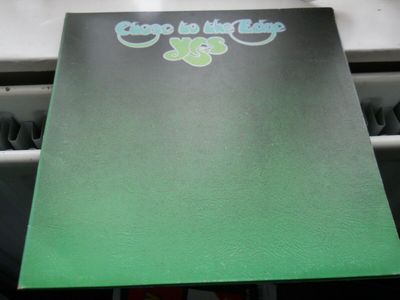 Sold Date: January 12, 2020
Start Date: January 5, 2020
Final Price: £46.50 (GBP)
Bid Count: 16
Seller Feedback: 749
Buyer Feedback: 2900

YES - 
Close To The Edge
ATLANTIC
1st Press UK
 1972 Ultra Heavy vinyl
Machined First UK press matrices:   the earliest possible issue and according to the mother stampers this copy is one of the very first issued in the first few days. A3   and B2. These earliest mothers indicate a first week of issue of this very rare debut LP!
Condition Record/Sleeve: EX+/EX Extra info: KILLER PROG/JAZZ !! Fantastic 5th YES album from 1972!! Original UK 1st pressing  with Textured Gatefold sleeve !! ORIGINAL YES albums are a real hard find in this splendid condition. the first two , don't miss out this opportunity!!Weight of the vinyl: 139 gr., far heavier than any later re-issue!
YES took their sound to even more epic proportions on "Close to the Edge", arriving at a plateau that found their ambitious individual styles comingling in a profoundly organic setting. "Close to the Edge" may well be the band's finest moment: surely its succession of brilliantly rendered musical themes is one of progressive rock's crowning achievements. The side-long title track returns to the elastic and acrobatic sound of "The YES Album", forsaking the heavier sound of "Fragile" for a fluidity and clarity that brought all of the instruments into play. The vocals of JON ANDERSON have rarely sounded so angelic, the guitar histrionics of STEVE HOVE intermingle madness and lucidity, RICK WAKEMAN's arsenal of keyboards effervesce throughout the arrangements, and CHRIS SQUIRE's bass slides in and out of the melodies with often fantastic consequences. (BILL BRUFORD, while seemingly incapable of being less than creative and unconventional in his rhythms, is called upon to play the musical straight man through much of this music.) Open space, something that "Fragile" had little need for, plays an even larger role on "And You and I." The song starts with an acoustic introduction from HOWE, and the magical journey is soon underway, invoking moments of sublime beauty with uncanny ease. By comparison, the muscular "Siberian Khatru" is perhaps too heavy handed, although the broad lexicon of sound at the disposable of HOWE and WAKEMAN is again amazing.
"Close to the Edge" is easily the tightest tapestry of music that YES has woven, and a culmination of the styles explored on their last two albums. Sadly, BRUFORD left to join KING CRIMSON before the album was released, effectively ending what many still consider to be the band's "classic" lineup.
Vinyl: EX+.  Both surfaces retain their original deep, glossy sheen.  There are a couple of the usual sleeve retraction paper traces only visible under a strong light. There are no marks. There is just one light wispy hairline,  it is only shallow and can hardly been seen,  the record sounds sensational. Beautiful labels and here it can be seen that the LP has been clearly looked after by a careful owner.
 Outstanding audio delivery in all respects with a crystal clear, deep, rich, warm and detailed sound and on playback at a loud volume (which is how I always listen to my LPs prior to listing and it's always an immense pleasure to return to this one) there is barely any surface noise. This is a beautifully clean pressing (and I must emphasise again how difficult it is to find a copy which plays this well). The whole LP sounds absolutely great and plays to a high standard with superb clarity, no groove-wear and no distortion and is very strictly graded a strong EX for audio  - great copy!! Of course, NO skips, NO jumps, NO ticks.
Labels: NM. One tiny sticker on one side.
Gatefold  Sleeve: EX.  Extremely hard to find this textured sleeve without any issues,  and this is indeed one of the better copies I have ever come across and will most certainly be pleasing to most prog collectors. A couple of tiny creases near the spine. NO storage wear on the top edge and only lightest to the bottom one. Spine fully legible, lettering 100% light wear to the centre spine .  Any storage wear is just ultra light. The opening is super crisp.  The inner gatefold is near mint. Of course  NO tears, NO writing.
Insert : EX. The lyric inner is the original and in fantastic condition and has two small seam splits.
Important : International postage will be registered and insured if over GBP 20.00.  These fees in England have gone up significantly last May. Please wait for my invoice before paying. Postage will be according to Royal Mail rates. Postage is NOT a money spinning exercise for me.
Though there are rarely ever any problems with my items, I always try my very best to describe everything exactly!  PLEASE REMEMBER to contact me FIRST,  if you have any problems at all, before you leave feedback and star ratings, so I get a chance to turn any negative experience into a positive one!  I can always happily sort anything out for you, if you let me know you have a problem!  This way no one has to leave Negative/Neutral feedback - and we both walk away happy! Similarly with the amount of stars, anything less than a full 5 * rating is effectively detrimental to a seller's rating as lower ratings will incur higher Final Value Fees  and lower priority in the bid lists eventually making it unattractive to list items on Ebay at all. I know of at least one major previous Ebay seller who has decided not to list via Ebay again. Please do NOT bid if you cannot give me at least 1 chance to sort everything out to your FULL satisfaction in the unlikely event of a problem.  Thanks again!!
This an excellent investment opportunity!!! Any questions please ask me and I will try to answer soon.