Adventure Time The Complete Series [4LP Cassette CD] LP Vinyl Record Album Mondo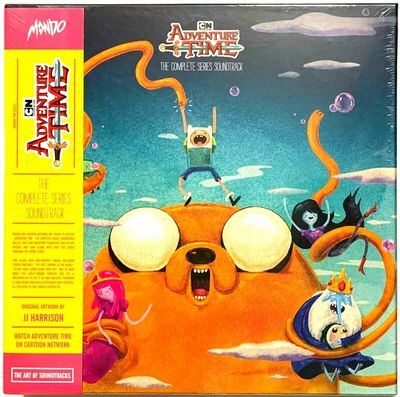 Sold Date: June 9, 2021
Start Date: June 9, 2020
Final Price: $399.99 (USD)
Seller Feedback: 20191
Buyer Feedback: 0

Adventure Time Complete Series Sdtk. [4LP + Cassette & CD] LP Vinyl Record Album
- Complete Series Soundtrack Box-Set - Includes 4 LPs a Cassette & a CD - 3x 12-inch LPs - 1x 10-inch LP - Featuring amazing new artwork from JJ Harrison, produced by series composer Tim Kiefer, and pressed on heavy weight colored vinyl. - Brand New Sealed
TRACK LISTING:
A1–Pendleton WardAdventure Time Theme Song A2–Olivia OlsonFries A3–Unknown ArtistOut Of The Fire A4–Jeremy ShadaLay My Head Down Slow A5–Olivia OlsonFinn The Blushing Baby A6–Unknown ArtistWild Animals A7–Olivia OlsonFisherman A8–Jeremy Shada, John DiMaggioHome Is A9–Unknown ArtistPlush Petting Zoo A10–Casey James BasichisCruising In Lumpy Space A11–Unknown ArtistJuke Bug A12–Unknown ArtistTurbo Dating A13–Biz MarkieGooey Gangsta A14–Unknown ArtistForced Forest A15–Adam MutoBilly!!!!!!!!!! A16–John DiMaggioHobo Dreams And Sun Floods A17–Chris Isaak, John DiMaggioSeven's Freestyle A18–Unknown ArtistA City Of Thieves A19–Tim KieferRainicorn Rodeo A20–Unknown ArtistSecret Room A21–Jeremy ShadaSusan Strong A22–Pen Ward*, Olivia OlsonHouse Hunting A23–Unknown ArtistSand Castle Siege B1–Tom KennyFries (Crazy Sick Ice King Version) B2–Olivia OlsonI'm Just Your Problem B3–Jeremy Shada, John DiMaggioCondiment Rainbow B4–Unknown ArtistPulse Duel B5–John DiMaggioOn A Boat B6–Jeremy ShadaBalloon Music B7–Niki YangFriends Don't Fight B8–Neil Patrick Harris, Madeleine MartinOh Fionna B9–Unknown ArtistMovie Filming Time B10–Steve Little (4)Ultimate Prize B11–Jeremy Shada, John DiMaggioOur Favourite Foods B12–Unknown ArtistParty With The Chief B13–Jeremy Shada, John DiMaggio, Andy SambergTurn Up The Music B14–Unknown ArtistMystery Guitar B15–Jeremy Shada, John DiMaggioWe're Finn + Jake B16–John DiMaggioPB Isn't Feeling Good B17–Unknown ArtistSlow Roast B18–Jeremy Shada, John DiMaggioYo Mama Rap B19–Jeremy Shada, Olivia Olson, Hynden WalchMy Best Friends In The World B20–Unknown ArtistThe Great Jelly Race B21–John DiMaggioOn A Tropical Island B22–Pendleton WardSomething Sweet B23–Unknown ArtistCow Tango B24–Unknown ArtistLast Letter B25–Olivia OlsonNot Just Your Little Girl C1–Jeremy Shada, John DiMaggioAll Gummed Up / All Warmed Up C2–Unknown ArtistWiz Buds C3–John DiMaggio, Kumail NanjianiThree Nice Dudes C4–Unknown ArtistDropdown Rainbow C5–Jeremy Shada, Al Yankovic*Fixing A Truck C6–Unknown ArtistRocky Road C7–Donald Glover, Madeleine Martin, Roz RyanGood Little Girl C8–Jeremy ShadaSleepy Puppies C9–Riki LindhomeIce King And The Island Lady C10–Unknown ArtistGo Dentist C11–John DiMaggioBacon Pancakes C12–Davey JohnsonReal Power C13–Niki YangOh BMO C14–Unknown ArtistSummer Swamp Boogie C15–Kent Osborne, John DiMaggioJoshua's Final Message (Remix) C16–Jeremy ShadaMelons C17–Unknown ArtistParts Unknown C18–Andy MilonakisFireproof Beat C19–Tom KennyOh Bubblegum C20–Unknown ArtistSimon's Tale C21–Jeremy Shada, John DiMaggioPolitical Rap C22–Tom Kenny, Olivia OlsonRemember You D1–Lake (4)No Wonder I D2–Andy Samberg, Jeremy ShadaFinn Vs Rap Bear D3–Justin RoilandPoor Little Lemonhope D4–Peter SerafinowiczAll I Need D5–Jeremy ShadaBaby's Building A Tower Into Space D6–Pendleton Ward, Thurop Van OrmanLittle Brother D7–Jessica DiCiccoA Kingdom From A Spark D8–Hynden WalchLonely Bones D9–Jeremy ShadaCan't Get Over You D10–Justin RoilandLemonhope's Got Feet D11–Jeremy Shada, Ashly Burch, Hynden WalchLove In The Darkness D12–Jeremy Shada, Hynden WalchDer Holle Rache Kocht In Meimem D13–Jeremy ShadaCall To The Universe D14–Jeremy Shada, John DiMaggioFallen Ally D15–Jeremy Shada, Hynden WalchFood Chain D16–Jon WursterBooboo Sousa D17–Unknown ArtistLike A Rock D18–Jeremy Shada, John DiMaggioTo A Plant D19–Tom KennyWhere Everybody Knows Your Name E1–Olivia OlsonAdventure Time Main Title - Stakes E2–Unknown ArtistFun With Trees E3–Ava Acres, Rebecca SugarEverything Stays (Marcy & Mom) E4–Unknown ArtistStakes On A Boat E5–Olivia OlsonRemembering Memories E6–Unknown ArtistInvisible Guest E7–Olivia OlsonLove In Its Place E8–Olivia Olson, Hynden WalchIt's Spring Again E9–Unknown ArtistMoonrays E10–Olivia OlsonWas It Reality E11–Olivia OlsonEverything Stays E12–Jeremy ShadaAdventure Time Main Title - Islands E13–Unknown ArtistBRB E14–Lennon ParhamFounders Song E15–Unknown ArtistWay Out There E16–Unknown ArtistPedestrian Paradise E17–Ashley ErikssonGreatly Appreciated E18–Unknown ArtistBot Or Not? E19–Hynden WalchAdventure Time Main Title - Elements E20–Unknown ArtistTo Be Spoken E21–Kelly HoganBlue Magic E22–Unknown ArtistBlue Sky E23–Jeremy Shada, John DiMaggioTime Passes Like A Cloud E24–Unknown ArtistSweet / Sour E25–Hynden Walch, Candy PeopleLet Me Call You Sweetheart E26–Unknown ArtistSkyhooks E27–Olivia Olson, Hynden WalchBonbon Ballad F1–Willow SmithCome Along With Me Main Title F2–Olivia OlsonFlower Body F3–Ako CastueraWater Hymn F4–Unknown ArtistSparkle Fountain Sunday F5–Unknown ArtistMinor Changes F6–Hynden Walch, Katie CrownHot Dog Song F7–Andy Milonakis, Jessica DiCiccoNEPTR+FP F8–Unknown ArtistMemory Strings F9–Jessica DiCicco, Open Mike EagleChipmunk Rich F10–Olivia Olson, Hynden WalchDon't Need A Pill To Be Chill F11–Niki Yang, Hynden Walch, Olivia OlsonTime Adventure F12–Unknown ArtistNailed It F13–Olivia OlsonYeah Girl, It Stinks F14–Hynden WalchGumspeak Lullaby F15–Bettie WardImagination A Dream F16–Jeremy ShadaI Want To Ride On A Boat F17–Unknown ArtistSun Sparkles F18–Lennon ParhamEvolution F19–Unknown ArtistA Moment To Appreciate This Moment F20–Open Mike Eagle, Jonathan ParkBlowing Up The Spot F21–John DiMaggioMama Said F22–Olivia OlsonSlow Dance F23–Al Yankovic*Two Halves Make A Whole F24–Ashley ErikssonIsland Song Bonus 10-Inch G1–Tim KieferDiamonds And Lemons Main Title G2–Unknown ArtistElectric Saw G3–Unknown ArtistNintendub G4–Unknown ArtistMegaman's A Sissy G5–Niki YangConversation Parade G6–Unknown ArtistChip Dip Triple Flips Are Hip G7–Unknown ArtistGuardians Of Sunshine G8–Unknown ArtistWe're Adventure Masters G9–Unknown ArtistKompy's Kastle G10–Unknown ArtistDinner With Morty Rogers G11–Jeremy Shada, John DiMaggioThe Computer World G12–Unknown ArtistSuper Adventure Land G13–Unknown ArtistSnakes And Lazers H1–Unknown ArtistPlantsitters H2–Unknown ArtistThe Old Factory H3–Unknown ArtistSub Mission H4–Unknown ArtistPixel Sprint H5–Niki YangRobot Cowboy H6–John DiMaggio, Niki YangWhere Is Finn H7–Unknown ArtistA Slumber Party H8–Unknown ArtistThe Corridor Of 1000 Deaths H9–Unknown ArtistManlorette Party Mourning Becomes Eclectic Vol. 7 CD CD1–Cassey James BasichisHolliday For Nuts CD2–Cassey James BasichisGum Party CD3–Cassey James BasichisUp On Muffin Hill CD4–Cassey James BasichisA Beastly Condition CD5–Tim KieferBeach Brawl Fantasy CD6–Cassey James BasichisBaby Feelings CD7–Tim KieferSlow Space CD8–Cassey James BasichisOld Stump Town CD9–Tim KieferTime For Graybles CD10–Tim KieferWords From The Forest CD11–Cassey James BasichisThe Conductor CD12–Tim KieferWalk Into The Sun CD13–Cassey James BasichisHiking Across Heartbreak CD14–Cassey James BasichisFrogiven CD15–Tim KieferGrey CD16–Cassey James BasichisNervous Flamez CD17–Cassey James BasichisCooking Is Fun CD18–Tim KieferThat Red Hot Dame Lorraine CD19–Cassey James BasichisBig Time CD20–Cassey James BasichisAdventure Friends CD21–Tim KieferOh What A Good Boy Am I CD22–Cassey James BasichisReal Heroes CD23–Cassey James BasichisAttack Of The Candy Cannibals CD24–Tim KieferHairrevelation CD25–Cassey James BasichisBrick By Brick CD26–Tim KieferLow G Rap Battle CD27–Tim KieferHardcore Will Never Digest (Original Teddybear Mix) CD28–Cassey James BasichisVamp Vamp CD29–Cassey James BasichisWish Upon A String CD30–Cassey James BasichisSpace Transit CD31–Tim KieferThinking Of Butts CD32–Cassey James BasichisDon't Tell Dad CD33–Cassey James BasichisGhost Buddy CD34–Tim KieferZombie Loop CD35–Cassey James BasichisGoblin City Shuffle CD36–Tim KieferOn The Tail CD37–Cassey James BasichisModern Comforts CD38–Cassey James BasichisSoy People CD39–Tim KieferGetting A Call In The Woods CD40–Tim Kiefer, Cassey James BasichisReally Big Sweaters CD41–Cassey James BasichisWhen A Brave Soldier Claps CD42–Tim KieferThey Set You Free CD43–Cassey James BasichisGive Me Tears CD44–Tim KieferClub In The Clouds CD45–Tim KieferMiniature Dancing Cats CD46–Tim KieferThe Cosmos In A Nacho CD47–Cassey James BasichisHard Skipping CD48–Tim KieferWerk Dat Belly CD49–Tim KieferSkool Bell Strut CD50–Cassey James BasichisFalling Isn't so Bad CD51–Tim KieferBig Boy Coconuts CD52–Tim KieferSurfing On Brain Waves CD53–Tim KieferA Blip And A Bubble CD54–Cassey James BasichisTrain Chasers CD55–Tim KieferTrunked Up CD56–Pendleton Ward, Cassey James BasichisBuff Baby Summer Jams 3 Cassette (Demos) CAS1–Rebecca SugarNot Just Your Little Girl (Demo) CAS2–Andres SalaffNEPTR+FP (Demo) CAS3–Pendleton WardFriends Don't Fight (Demo) CAS4–Steve WolfhardLemonhope's Got Feet (Demo) CAS5–Pendleton WardOh BMO (Demo) CAS6–Rebecca SugarFry Song (Demo) CAS7–Rebecca SugarSusan Strong (Demo) CAS8–Rebecca SugarOh Fionna (Demo) CAS9–Rebecca SugarI'm Just Your Problem (Demo) CAS10–Rebecca SugarBest Friends In The World (Demo) CAS11–Rebecca SugarSleepy Puppies (Demo) CAS12–Rebecca SugarAll Gummed Up Inside / All Warmed Up Inside (Demo) CAS13–Patrick McHaleDream Of Love (Demo) CAS14–Rebecca SugarBacon Pancakes (Demo) CAS15–Rebecca SugarOh, Bubblegum/Nuts (Demo) CAS16–Rebecca SugarRemember You (Demo) CAS17–Rebecca SugarGood Little Girl (Demo) CAS18–Michael Justin MoynihanBooboo Sousa Pt. 1 (Demo) CAS19–Michael Justin MoynihanBooboo Sousa Pt. 2 (Demo) CAS20–Rebecca SugarEverything Stays (Demo) CAS21–Rebecca SugarAdventure Time (Demo)
CONDITION:
Vinyl: MINT.
Cover: MINT.
Sleeve/Inners: original.
SHIPPING & HANDLING:
Records are packed in professional record mailers.
Please note that there may be incidental dust, shadows or glares on the vinyl from the lighting being used in the pictures.
Please See Actual Pictures Above. We believe pictures are a huge portion of the description – please inspect them carefully and ask questions if you have condition concerns.
USPS (United States Postal Service) or Fed Ex
POLICIES/FEEDBACK:
Please Feel Free to Email Us With Any Questions or Concerns You Might Have
Our Goal is to Make You Happy w/ Your Purchase & Provide you w/ a Positive Ebay Experience
We Take Pride in All of Our Items, Handle Each Transaction on a Personal Basis & We Ship Faster Than Lightning