CONTOURS on Gordy —FIRST I LOOK AT THE PURSE— northern soul 45 | PROMO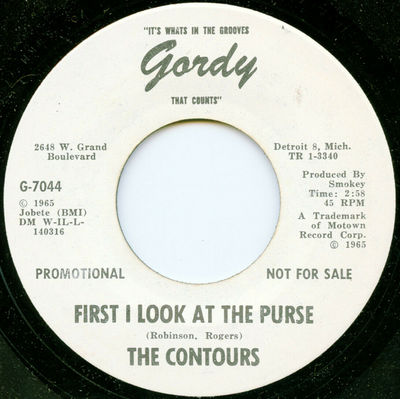 Sold Date: January 17, 2021
Start Date: January 10, 2021
Final Price: $20.50 (USD)
Bid Count: 2
Seller Feedback: 8992
Buyer Feedback: 3500

CONTOURS on Gordy —FIRST I LOOK AT THE PURSE— northern soul 45 | PROMO

Condition - VG+.

Artist: The Contours
Label: Gordy | G-7044
Year: 196?
Notes: Original US pressing.
White label promo copy.

Vinyl shows high gloss, clean surface
Labels show wear to each side, no writing
Strong VG+
Conservative Grading.

Tracklisting
A Side: First I Look At The Purse
B Side: Searching For A Girl

all audio clips, pictures & label scans are from the actual record.
these have not been enhanced or 'cleaned-up' in any way.
Grading System:
NM / VG++ / VG+ / VG / VG minus / G
Contact us with any questions. We will reply within 24 hours.

US (via USPS Media Mail) $3 (50 cents per additional 7inch)
International (via USPS) $15 ($3 per additional 7inch)
Other services are available. Additional fees may apply.
Please contact us with any questions.
inkfrog terapeak