THE VISITORS (EARL & CARL GRUBBS)~NEPTUNE~RARE ORIG '72 COBBLESTONE LP~NR MINT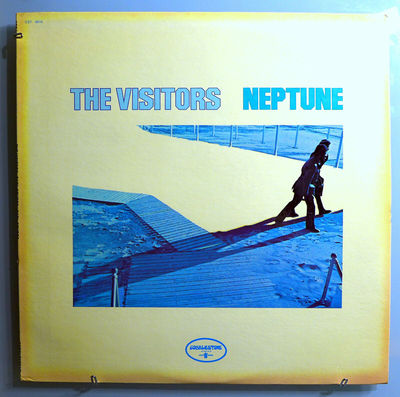 Sold Date: May 30, 2021
Start Date: May 23, 2021
Final Price: $265.00 (USD)
Bid Count: 19
Seller Feedback: 25230
Buyer Feedback: 3379

<img src= http://pics
WE CURRENTLY HAVE  MORE  THAN 400 LISTED ITEMS
► ► ► ► ►  ► ► ► ► ► ►► ► ►  ► ► ►  ►
♫♪♫♪♫♪♫♪♫♪♫♪♫♪♫♪♫♪♫♪♫
·       VISITORS (EARL & CARL GRUBBS) – NEPTUNE – VERY RARE ORIGINAL 1970 COBBLESTONE (A SUBSIDIARY OF BUDDAH RECORDS) STEREO LP CST-9010
·       ORIGINAL U.S. PRESSING
·       ORIGINAL BROWN 'COBBLESTONE' LABEL WITH A MATCHING MOTIF
·       THIS IS THE ORIGINAL, AUTHENTIC, FIRST U.S. PRESSING; THIS IS NOT A REISSUE, AN IMPORT, OR A COUNTERFEIT PRESSING.
·       ORIGINAL, THICK CARDBOARD COVER (AMERICAN STYLE)
·       ORIGINAL LAMINATED COVER
·       CLEAN, WEAR-FREE LABELS
·       FAIRLY THICK VINYL PRESSING On the scale from 1 to 10 (1 being the least thick, and  10 being the thickest), we assess the thickness of the vinyl as 7.
(►PLEASE SEE THE IMAGE OF THE COVER, LABEL OR BOTH, SHOWN BELOW)
(Note: this is a REAL image of the ACTUAL item you are bidding on. This is NOT a "recycled" image from our previous auction. What you see is what you'll get.  GUARANTEED!)
♫♪♫♪♫♪♫♪♫♪♫♪♫♪♫♪♫♪♫♪♫
Track list:
A1 -  - Neptune
12:02
A2 -  - Naima
4:40
B1 -  - Reflections
2:39
B2 -  - China
5:30
B3 -  - Pisces
4:05
B4 -  - Pat's Tune
2:24
Companies, etc.
Credits
Bass – Edward Crockett (tracks: B2), John Hicks (15)
Congas – Robert Kenyatta
Drums – Bill Roy, Richard Lee Wiggins (tracks: B2)
Electric Piano – Ron Burton
Percussion – John Goldsmith, Sherman Ferguson
Piano – Elmer Gibson, Sid Simmons
Saxophone – Carl Grubbs, Earl Grubbs
Matrix / Runout (A-Side runout inscription): CST 9010 A F/WN
Matrix / Runout (B-Side runout inscription): CST 9010 B F/WN
TO SEE IF WE HAVE OTHER LISTED ITEMS BY THIS GROUP OR ARTIST ► 
♫♪♫♪♫♪♫♪♫♪♫♪♫♪♫♪♫♪♫♪♫
·       CONDITION:
·       RECORD
(IMPORTANT NOTE: unless otherwise noted, ALL records are graded visually, and NOT play-graded!; we  grade records under the strong, diffuse room light or discrete sunlight)
(a)          WE GRADE THE VINYL AS EXCELLENT. This is one of those albums that are somewhat difficult to grade. It is somewhere between VG++ and NEAR MINT, just a notch below NEAR MINT. A few light abrasions ARE visible, but they are extremely shallow, superficial  and only moderately visually distracting (nothing significant).For the most part, the vinyl looks impeccable without any MAJOR visual flaws or imperfections. Much of the original luster is intact, and the vinyl shines and sparkles almost like new.
(b)            The record is pressed on a RELATIVELY  thick, inflexible vinyl. This is NOT a thin, flimsy ('dynaflex' type),  vinyl, but not the thickest, most rigid vinyl, either.
(c)           Of course, this is a full-bodied ANALOG recording, and not an inferior, digital recording!!!
·       COVER (THIS IS THE ORIGINAL, LAMINATED, GLOSSY COVER):
THE COVER IS NICE --- ABOUT EXCELLENT OR VERY GOOD++ (VG++).
The following flaws or imperfections are noted on the cover:
-         Cover shows some yellowing on both sides, apparently from aging.
-         Cover has some tiny, faint writing on its back side (a microscopic price code written in one corner)
-         Cover has a minor 'bump' (dent) on the opening side / top  seam / bottom seam / spine (BARELY VISIBLE)
-        Cover has a few tiny wrinkles along the spine (nothing significant)
NO OTHER VISIBLE FLAWS OR IMPERFECTIONS ON THE  COVER
♫♪♫♪♫♪♫♪♫♪♫♪♫♪♫♪♫♪♫♪♫
POSTAGE & SHIPPING:
We offer THREE postage rates for both Domestic and International Mail: Media Mail, Priority Mail and Express Mail for domestic, and First Class, Priority International Mail, and Express International Mail for international orders. INTERNATIONAL CUSTOMERS PLEASE NOTE: WE RECOMMEND (BUT DO NOT INSIST) that you select USPS International Priority Mail OR International Express mail when making a payment.
INTERNATIONAL POSTAGE rates vary from one region of  the world to another. For SPECIFIC international and domestic postage rates ►. While you can be rest assured that our packaging is careful, sturdy and impact-proof, please note that damage, loss or theft in transit is always possible, and in the case of some countries even PROBABLE. To discuss this potential problem and ensure flawless delivery, please contact us thru eBay BEFORE placing a bid.
WANT A DISCOUNT ?!? 
IT'S EASY: CLICK ► TO see HOW!
(please note recent changes in our policy)
♫♪♫♪♫♪♫♪♫♪♫♪♫♪♫♪♫♪♫♪♫
FOR OTHER IMPORTANT INFORMATION, CLICK ON THE LINKS BELOW:
► ►► ► ► ► ► ► ► ►
♫♪♫♪♫♪♫♪♫♪♫♪♫♪♫♪♫♪♫♪♫
OUR REFUND POLICY :
WE OFFER UNCONDITIONAL MONEY-BACK GUARANTEE WITHIN 30 DAYS FROM THE RECEIPT OF THE MERCHANDISE, NO QUESTIONS ASKED; Still sealed items MUST be returned sealed in order to be eligible for a refund Some restrictions apply. Please read our complete refund policy before placing a bid. ►  for the full text of our policy
FINE (BUT IMPORTANT!) PRINT
(1) The year indicated in the title bar is the year of the original release,  NOT necessarily the year of the actual pressing; for the actual generation of the pressing, please see our item description (top section, text in red letters). (2) Please do NOT bid based on the title bar, subtitle bar or item specifics box alone; instead, please read the entire description and grading before bidding; (3) Absolutely NO order cancellations after the auction closes. ever, under any circumstances. We can ONLY cancel bids before the item closes. (4) We are unable to cancel bids in the final 12 hours of the auction; if you need to do so, please contact eBay for help (5) We are unable to provide matrix-, stamper- or other pressing  information in the final 24 hours of the auction. If you require this information, please contact us well before the final day of the auction. (6) Yes, we DO combine shipments. Please click on "Shipping and Payment" tab on top of the auction page for additional details. (7)  All Paypal payments must be made from confirmed Paypal shipping addresses. NO third party shipping addresses will be honored (8) Absolutely NO partial refunds: if you are unhappy with the merchandise you received, please return it for a full refund, postage included (9). Civilized people can disagree without accusing each other of being indecent or dishonest; if you need proof of this seller's personal integrity, please check our eBay feedback, which speaks for itself  (10) All disagreements and miscommunications can be - and will only be - solved in a civil and mutually respectful manner;  please avoid puerile, offensive, abrasive or menacing language (attempted humor is fine and usually appreciated, although overused-to-death sarcasms can be really, really tedious. (11) This seller will accommodate all reasonable requests and is generally a flexible and agreeable person (12) Our love & appreciation for your trust, loyalty and business, always and forever; Thank You & Good Night!
© 2001,2007 MDJ. All rights reserved.
    On May-23-21 at 23:45:37 PDT, seller added the following information: