Hoodoo Gurus - Blow Your Cool - 1987 Big Time LP - EX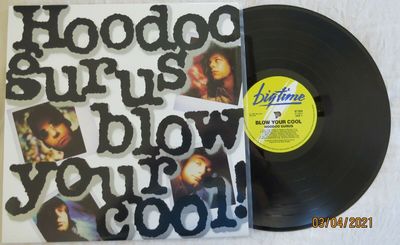 Sold Date: July 11, 2021
Start Date: July 1, 2021
Final Price: $23.27 (AUD)
Bid Count: 4
Seller Feedback: 6506
Buyer Feedback: 0

BT-7069 Australian from 1987
Both the cover and record are in beautiful condition and EX
If you want to combine a few LP's and 45's then postage up to 5kg's will be $20 or up to 3kg's for only 45's at $15.00 in total to anywhere in Australia
Postage: If this listing is for multiple items then postage will be based on worst case Far Nth Qld; N.T.; W.A. The closer you are to Bendigo the cheaper it will be. Except if it is $18 then it is a flat rate anywhere in Australia
International buyers - Everything going out of Australia has to be tracked during the current situation hence the postage. It will be $25 to North America and a little cheaper still to New Zealand and South East Asia
How I grade - If it's a 45 or EP I will play Side 1 and take the description from that. If it's an LP I will generally play the 1st side and visually grade Side 2 for anything noticeable.
MINT- = Not a mark. If it's a record it plays with absolutely no noise (that I could hear), if it's a cover it is spotless.

EX = Slightly inferior to MINT-. Maybe has a couple of pops or marks but has no effect. The cover will have very minor wear.

VG+ = Pretty standard rating with most falling into this category. You can expect the music to come over clean but there will be some clicks or crackles and maybe the odd pop. The cover may have some obvious minor ring wear, creasing and laminate lift.
VG = Getting some surface marks and noise while playing. Cover may have some obvious ring wear or general wear.

G = Pretty noisy and marked and may stick or jump in one or two places. When it is rated here it will be good if you don't have it or yours is worse than this. 
wol/c = writing on label/cover: s/tol/c = sticker or tear on label or cover
What the shine will indicate:
Great shine = hardly a mark on it
Nice shine = A few surface marks or scuffs but minimal with little to no impact on playing quality
OK shine = a little bit of gloss comes through but has many scuffs and surface marks
I will usually contact the winner within 48 hours of finish to finalise the process. If you are looking at other items or will be delayed with payment, please let me know
Caveat Emptor - If there is anything about this transaction that may upset you, EG Postage, please do not bid.
I am happy to offer a refund or exchange where the items do not match my description. Please be aware that anything VG and under will have more background noise and surface marks. It will still be OK to play but do not expect crisp clear sound.