Persona 5 Soundtrack (Essential Edition) - Altus Sound Team (4xLP Vinyl Record)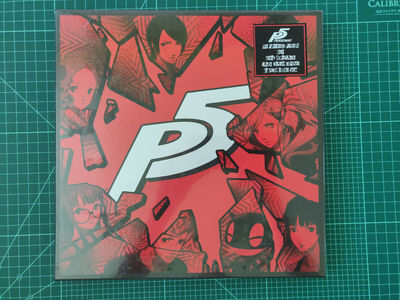 Sold Date: September 13, 2021
Start Date: August 25, 2021
Final Price: $215.00 (USD)
Seller Feedback: 20
Buyer Feedback: 0

Item is brand new and ready to ship. Free shipping with USPS Media Mail. The Essential Edition 4xLP feat. track listing curated by Atlus Sound Team, including P5's most popular music Premium Box Set Includes Sticker Sheet & Post Card Pack-ins Music by Atlus Sound Team Condition is New
Product is in Original Factory Packaging, never opened.

Ships with USPS Media Mail.
Please See Photos for more details on the Condition/Description of this item(s)

Item(s) will almost always be shipped the same day, but please allow for 1 business day handling time.


Shipping Information

We ship most items USPS Priority Mail, but will ship UPS/FedEx if it is a customer request and for an additional shipping fee. Tracking numbers will be posted to the buyers Purchase History page in eBay.
 
Most items ship out the same business day before 5 pm CST. After 5 pm CST, item will be shipped the next business day.

We will expedite an order if you need it quickly, please contact us and we can give you the expedited shipping costs and options.

If your item gets damaged in transit, please contact us immediately.

If the tracking number for your package says it never got delivered, please contact us immediately.

 Quality Customer Service

If you have a problem with an item, please bring it to our attention. We are easy to work with. We will either replace it (if stock is still available) or issue a refund with return of the original product, whichever fixes the problem for you.

Terms

I have done my best to accurately describe this item and its condition. The condition of the above-mentioned Item(s) is in my personal opinion only.

To avoid a difference of opinion, it is the Bidders/Buyers Responsibility to make the final decision on the item's condition, age, authenticity or any other determining factors by using the photos as the actual description and condition.