60s Beat Pop THE 5 a.m. EVENT hungry Mega Rare 1966 UK 7" Vinyl 45 Mint OMG!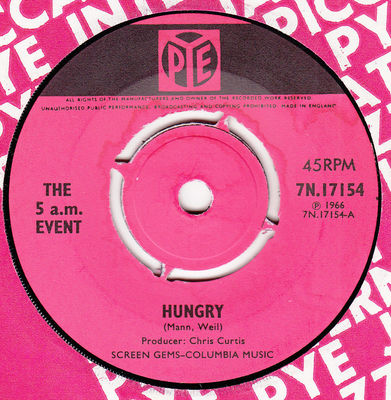 Sold Date: October 10, 2018
Start Date: October 5, 2018
Final Price: £465.50 (GBP)
Bid Count: 10
Seller Feedback: 15249
Buyer Feedback: 6389

The 5 a.m. Event "Hungry / I was my hands in muddy water" 1966 U.K. 7" vinyl single Pye 7N 17154. Please see pics and use zoom for close ups - ignore any lines down the pic, that's my scanner not the record!
Visually the record is in mint condition. 
Audiowise it plays perfectly and still sounds brilliant - money back if you don't agree! - a truly awesome copy of a rare single; best one of these I've ever had the pleasure to offer......
Company bag is split free and in very good condition.
This is from a large & fantastic collection I've just bought; loads of fab stuff coming up in the next few months, so keep visiting my listings! 
UK first class post & high quality heavy duty packing £1.75

Europe / Rest of world post and high quality heavy duty packing £2.75

PLEASE NOTE: I WILL NO LONGER SHIP TO BRAZIL OR MEXICO.
Please see packing detail further down the page...

Combined postage on multiple items: UK 50p each additional 7", Europe / Rest of world £1.00 each additional 7".
Non-payment is becoming a big problem! - please read BEFORE you bid....

Payment is by Paypal only. Please pay within 7 days of auction end. The eBay unpaid item assistant programme takes over after 7 days, and non-payment after that results in eBay non payer strikes that can affect you being able to bid on other sellers auctions - please see eBay small print for details.

If you have low feedback (under 50) or private feedback, please contact me before bidding (why keep it private if it's good?!) - low / private feedback bids maybe cancelled without prior notice. Sorry if this sounds a bit heavy, but the majority of non-payment comes from low & private feedback bidders, and it is getting out of control.
All items dispatched within 24 hours of payment, same working day for payments received by 3pm.

Money back guarantee if not delighted!
PACKING: All vinyl is shipped with record outside the cover to avoid seam splits in transit. Extra stiffners, foam wrap and high quality mailers ensures your record is dispatched to arrive in top condition. I'm very proud of the fact that I cannot remember the last time I had damage in transit.