LYNYRD SKYNYRD ~ STREET SURVIVORS ~ ORIGINAL FIRST PRESS LP ~ PROMO WITH INSERTS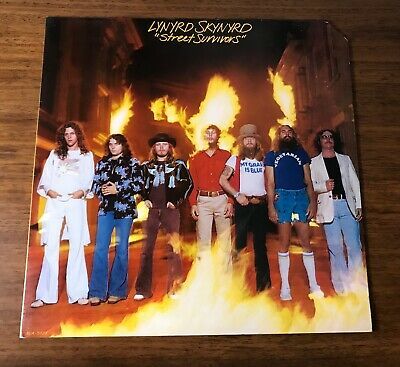 Sold Date: November 7, 2019
Start Date: March 23, 2019
Final Price: $399.00 (USD)
Seller Feedback: 2807
Buyer Feedback: 0

This listing is for a LYNYRD SKYNYRD Original First Press LP  titled "Street Survivors".  #MCA-3029, 1977 MCA Records.  This album is a PROMO COPY.  On the back there is a sticker advertising "Sample Copy". It is also marked on the right corner as a designated Promo.  It has a gatefold cover.  Also, it comes with two original inserts "Lynyrd Skynyrd Survival Kit" and an insert with concert dates on one side and song titles and band members on the other side.  It also has the original MCA inner sleeve. The record, inserts, and the cover are all in near mint condition.  This is a very rare PROMO copy on this title.  This particular original pressing was withdrawn due to the tragedy of the crash.  A very nice original to add to your collection.  I don't get this one in very often.
FREE PRIORITY INSURED SHIPPING!
Songs:
What's Your Name
That's Smell
One More Time
I Know A Little
You Got That Right
I Never Dreamed
Honky Tonk Night Time Man
Ain't No Good Life
PLEASE SEE THE MANY OTHER GREAT ITEMS I HAVE IN MY STORE!