Bob Dylan 2-EYE Self Titled Columbia CS 8579 LP 1962 US Vinyl 360 Sound (300)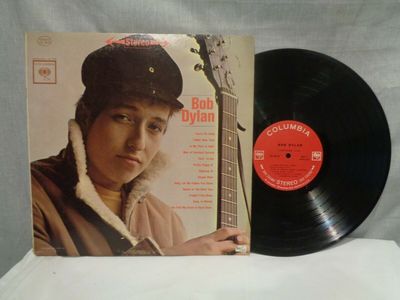 Sold Date: October 20, 2021
Start Date: August 22, 2021
Final Price: $29.99 (USD)
Seller Feedback: 6822
Buyer Feedback: 48

NO International BIDDING or SHIPPING !!!
DESCRIPTION -         PLEASE SEE PICTURES -
 WE GUARANTEE 100% SATISFACTION OR FULL REFUND
WILL COMBINE SHIPPING - WILL BE LISTING HUNDREDS OF ALBUMS 
RECORD WILL HAVE PLASTIC OUTER SLEEVE  ALBUM COVER
ALBUM WILL SHIP IN BOX MAILER
Bob Dylan 2-EYE Self Titled Columbia CS 8579 LP 1962 US Vinyl  360 Sound (300) 
Vinyl VG LITTLE SCUFFS AND LITTLE SCRATCHES 
COVER VG  HAS SHELFWARE 
Tracklist Hide Credits A1You're No Good
Written-By – * 1:37A2Talkin' New York
Written-By – * 3:15A3In My Time Of Dyin'2:37A4Man Of Constant Sorrow
Arranged By –  3:06A5Fixin' To Die
Written-By – * 2:17A6Pretty Peggy-O
Arranged By –  3:22A7Highway 51
Written-By – * 2:49B1Gospel Plow
Arranged By –  1:44B2Baby, Let Me Follow You Down
Written-By – * 2:32B3House Of The Risin' Sun5:15B4Freight Train Blues
Written-By –  2:16B5Song To Woody
Written-By – * 2:39B6See That My Grave Is Kept Clean
Written-By – * 2:40
THE ITEM PICTURED IS THE ITEM YOU WILL RECEIVE.
EMAILS ARE ANSWERED PROMPTLY Monday THRU Friday 9am-4pm - Weekends we will answer as soon as we can, if we can as we do have family obligations and commitments to tend to - THANKS FOR UNDERSTANDING
SHIPPING:
OUR SHIPPING IS GENERALLY DONE FIRST THING IN THE MORNING MONDAY - FRIDAY (no weekend shipping). Payments AFTER 10:00am WILL BE SHIPPED THE FOLLOWING BUSINESS DAY.
**THERE IS NO SHIPPING ON SATURDAYS & SUNDAYS**
WE WILL DO OUR BEST TO COMBINE SHIPPING WHEREVER POSSIBLE - WE DO HOWEVER RESERVE THE RIGHT TO LIMIT COMBINED SHIPPING IF ITEMS ARE TOO HEAVY OR FRAGILE TO SHIP TOGETHER.
PLEASE email us with any comments, questions or concerns prior to bidding to avoid any assumptions.
Thank you for taking the time to browse Bobbyvgoods, please come back soon!!