WHO - THE WHO SELL OUT - VINYL EXCELLENT CONDITION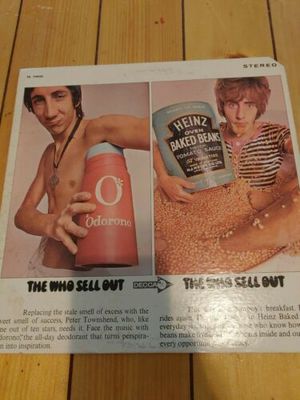 Sold Date: November 11, 2021
Start Date: October 12, 2021
Final Price: $24.99 (USD)
Seller Feedback: 987
Buyer Feedback: 0

WHO - THE WHO SELL OUT - VINYL EXCELLENT CONDITION.
Rating descriptions below are adapted from Goldmine Vinyl Grading Standards.
Mint (M) Perfect Condition basically means that it is as good as new, literally. The vinyl has to look new and sound as though it was never played, and the cover has to look untouched.
Near Mint (NM) Vinyl is near perfect. At most, a light scuff might appear on the record, but it plays without any noise or skips. The record sleeve should also be near perfect with only minor signs of wear. There is no "ring wear" on the cover. 
Excellent (EX) Vinyl is playable with no skips of any kind. Some very minor surface scuffs might show, but they do not affect the sound quality. The record sleeve can have some light ring wear but it is otherwise in in good shape. No writing on the sleeve. There might be some minor creases in the corners and very light and spotty seam wear but no splits in the seams.
Very Good Plus (VG+) The vinyl shows wear, including surface scuffs and some light scratches. However, There are no significant scratches that cause skips. On the cover, the corners may be slightly bent, but not broken. There may be wear to the seams but no tears or holes.
Very Good (VG) Vinyl doesn't necessarily look good, but still plays well enough. Surface noise will probably be present, including pops and clicks. At higher volume levels, the music should overpower any pops and clicks present. There may be seam splitting, but not complete separation of the sleeve panels from each other. There will be noticeable ring wear on the cover, but the cover should for the most part still be in good condition.