ACE HOLLAND Shape Up Mini Skirt RARE northern soul 45 r&b dancer funk LISTEN!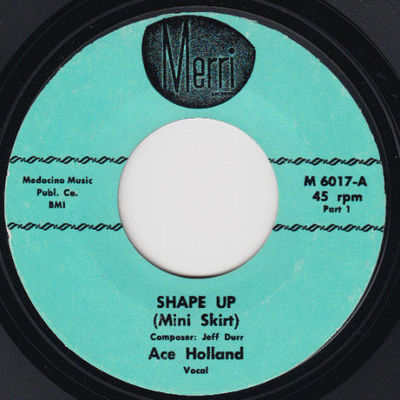 Sold Date: October 11, 2017
Start Date: October 4, 2017
Final Price: $141.48 (USD)
Bid Count: 20
Seller Feedback: 10291
Buyer Feedback: 1065
Audio Clips:
To hear audio clips older than 45 days you must become a member. (If you're already a member you need to log in or extend your membership.)
ACE HOLLAND
A: Shape Up (Mini Skirt) vocal
B: Shape Up (Mini Skirt) instrumental
[MERRI 6017, US]
Widely unknown and RARE 45 which features a pounding northern soul / r&b dancer. NOTE that this is a TOTALLY different recording/song than the one released with the same title on the D&S Productions label. I have put the "instrumental" first in the soundclip, has got a fantastic drum break. Have a listen below! In stunning condition.
Vinyl condition: EX+
SOUNDCLIP:

Click on the "play" button above or  to listen to SOUNDCLIPS of both sides! The soundclip will open in your default music player.
Don't forget to check out this week.
AIR-MAIL SHIPPING COSTS:
45s:
1-3 45s: $5 to Sweden. $8 to USA, Europe & rest of the world.
4-8 45s: $7 to Sweden. $12 to USA, Europe & rest of the world.
12"s/LPs:
1 LP/12": $8 to Sweden. $14 to USA, Europe & rest of the world.
2-3 LP/12"s: $9 to Sweden. $20 to USA, Europe & rest of the world.
4-6 LP/12"s: $11 to Sweden, $26 to USA, Europe & rest of the world.
INSURED/REGISTERED SHIPPING is available and costs $13 on top of the postage fee quoted above. I know that's very expensive, but that's the swedish postal system for you...
IMPORTANT! Payment shall be recieved within 10 days. 
PLEASE NOTE! In the unlikely event that it might happen, I can not be held responsible for packages going missing unless you've asked to have them sent with insured/registered shipping.
Payment is accepted via PayPal.
Thanks for looking and good luck bidding! ls3na3in