PROMOTIONAL HOT MIX! ( LUDWIG )1969 LED ZEPPELIN II Hard Heavy Blues Psych PAGE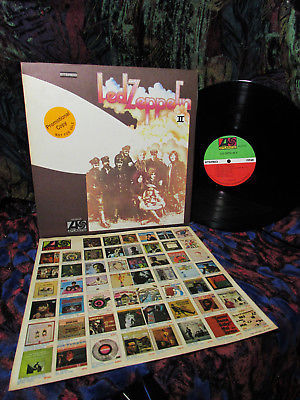 Sold Date: April 15, 2018
Start Date: April 12, 2018
Final Price: $827.00 (USD)
Bid Count: 23
Seller Feedback: 18491
Buyer Feedback: 5755

PLEASE READ BEFORE BIDDING: Please read the entire auction listing, including shipping costs, before writing to ask a question.   OUR GOAL IS CUSTOMER SATISFACTION. In order to meet that goal, we will ALWAYS work with our customers on any concerns that may arise. In the unlikely instance that you feel the need to open a resolution dispute before working with us, you will immediately be blocked from any further chance to acquire the rare music we present each and every week.   Payment is required within seven days. We mail all paid items ONE WEEK after auctions end. Please keep in mind our listings are time consuming in detail and we are often traveling to find these gems, which at times delays the delivery schedule by a day or two. We ALWAYS process and ship every paid order. We have no control over parcels once they are mailed from our local Post Office. Overseas mail to some countries (Italy, Russia, France, in particular) has became very slow. Opening a dispute for slow mail is unacceptable and will result in blocking the bidder. We work hard to provide excellent service as is represented by our 8000 plus positive feedback.   We use a VPI machine and thoroughly clean all records. Each order is carefully packaged by removing the LP from the jacket to avoid seam splits, use of 3 ml plastic cover sleeves over each LP and jacket, cardboard pad inserts, and placed in sturdy record mailers for safe delivery.   We take Customer Service seriously, and want you to be satisfied. Please give us 5 stars in each category through the feedback system, and we will be able to effectively continue to fulfill your passion for rare and collectible music! We have served thousands of satisfied customers - far more than our feedback records indicate - and our aim is to continue to do so. Thank you for your interest and support. ~~~~~~~~~~~~~~~~~~~~~~~~~~~~~~~~~~~~~~~~~~~~~~~~~~~~~~~~~~
SHIPPING:   USA ~ 1 LP = $4.00 Media Priority rates vary by area; please inquire.   All Canadian and Overseas shipping ~ Please inquire about rates. Priority shipping rates required on any order $200+ ~ Also, in the best interest of all of us, safe Express shipping rates on any order totaling $400+   Discount shipping on multiple LPs in same order. ~~~~~~~~~~~~~~~~~~~~~~~~~~~~~~~~~~~~~~~~~~~~~~~~~~~~~~~~~~
         LUDWIG "HOT-MIX" PRESSING ~ WIDE RANGE IMPACT AUDIO!

                     1969 ATLANTIC 1841 BROADWAY LABELS
                        ADVANCED RELEASE PROMOTIONAL

                         LED ZEPPELIN
                                       II
\                                         USA   - (1841 Broadway)  ATLANTIC RECORDS - SD 8236
ADVANCED RELEASE PROMOTIONAL


minty clean TOP-MOST OF THE POPPER MOST COPY!
.......................................................................................................

ROBERT LUDWIG / R.L. etched matrix (BOTH SIDES)
Both sides play with the outrageous Ludwig impact mix

        WIDE RANGE IMPACT AUDIO!
High - Bright Range & Dynamic - In Your Face recording
........................................................................................................

  1969 ATLANTIC 1841 BROADWAY LABELS

Original printed Atlantic '69 inner sleeve is included!

.........................................................................................................................................

The "brown bomber" was the second Zeppelin album, thrusting the famed band into superstardom...A chugging monster, derailed into a lengthy free-form ju-ju freak-out. Then 'The Lemon Song' reverts to straight-ahead blues-rock pastiche...'Whole Lotta Love'...has to be the heaviest thing one may run across....The album ends with a far-out blues number called 'Bring It On Home', during which Rob contributes some very convincing moaning and harp-playing
Riff rock had been what Jimmy Page's former band, the Yardbirds, were all about, and on Led Zeppelin's second album, released, like its predecessor, in 1969, the inventive guitarist demonstrated that he'd indeed learned his lessons well. Witness "Whole Lotta Love," a woozy epic based on one simple, head-banging-friendly guitar riff. Or the mock-dramatic "Heartbreaker," propelled by far more intricate but similarly effective note squashing. Between Page's sonic wizardry, John Bonham beating his drums into submission ("Moby Dick"), and the juice running down Robert Plant's leg ("The Lemon Song"), Led Zeppelin here just about succeeded in raising rock & roll excess to an art form. From the first grinding notes of the famous vamp that introduces "Whole Lotta Love," LED ZEPPELIN II announces for all to hear that they are the definitive hard rock band of their generation. But before the listener can even settle into the groove, things takes a hard left turn into a spacey new rhythm, exotically flavored by Page's droning feedback and innovative use of a violin bow. By tune's end, Zeppelin has repeatedly toyed with the listener's expectations.

This subversive quality distinguishes most of the arrangements on LED ZEPPELIN II, as in the soft/hard dynamic shifts of "What Is And What Should Never Be," the gospelish mood of "Thank You," the rocking vamps and jammer rhythms of "Heartbreaker" and "Living Loving Maid," and the rural echoes of "Ramble On."

A:
Whole Lotta Love
5:33
What Is and What Should Never Be
4:47
The Lemon Song
6:20
Thank You
3:50B:
Heartbreaker
4:15
Living Loving Maid (She's Just a Woman)
2:40
Ramble On
4:35
Moby Dick
4:25
Bring It on Home
4:19
CONDITION: The Cover: rated: M- PROMOTIONAL STICKER on front cover ... the THICK gatefold is clean with no wear! There are no delete marks, no split seams, no bends, no writing ...

The Vinyl: Both sides are extra clean, rated: M- the in-you-face LUDWIG mastered "hot mix" is incredible ,,. and of course clean 1841 Broadway Atlantic labels

Again, this is a BOTH SIDES etched R.L. (Robert Ludwig) matrix ... the audio is with noticeable vibrant explosive sound when compared to other early non Robert Ludwig pressings ... i.e. the "HOT MIX"

      A cool addition to anyone's music library!
SEE: SELLERS OTher items for similar cool sounds for "head" people...
EFFICIENT/CAREFUL GRADING
All imperfections are noted both cover & record
NOTE: All Items backed by  money back guarantee!
IF you have a problem PLEASE let us solve
for you BEFORE leaving ANY negative feedback. Thanks!
GRADING SCALE: M, M-, EX, VG++,VG+, VG, VG-
M    Completely clean, no marks
M-   Carefully used, looks clean, plays clean, shiny gloss, no marks
EX   Faint scuff or superficial mark, near M-, high gloss, plays clean
VG++ Glossy with minimal scuffing or light mark playing very nice, clean
VG+ a bit more scuff or markls still plays well with very minimal surface at worse
VG   more marks/scratches only minor, nothing deep, no loud clicks or pops
        this grade is abused by many, VG here does not mean "trashed"
VG-  surface noise present, will not have skips or jumps
ALL PAYMENTS SHOULD BE MADE WITHIN 5 DAYS Of AUCTIONS END
BIDDERS PLEASE =
Do Not Bid If You Are Not Serious About  Following Through The Transaction!
ALL ITEMS GUARANTEED FOR WINNING BID - LESS SHIPPING!
On Apr-12-18 at 21:40:37 PDT, seller added the following information:
Oh and by the way ...

SCARCE CUSTOM DESIGNED STICKER ON BACK COVER

      (((makes the item that much more special!)))


On Apr-14-18 at 21:38:17 PDT, seller added the following information:
"S/S" (STERLING)
next to the "R.L." (Robert Ludwig) in dead wax!