LP / JESUS SANTIAGO,LUIS M RAMOS,PRISCILA FLORES "ALEGRIAS CAMPESINAS"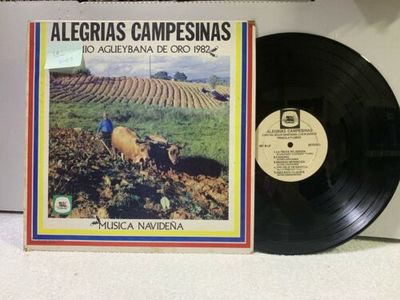 Sold Date: September 12, 2020
Start Date: July 31, 2020
Final Price: $33.99 (USD)
Seller Feedback: 4488
Buyer Feedback: 645

THIS SALE IS FOR ALBUM  LP  (12")  33 Rpm
Cover:     SB,CUC
VINYL  GSH LP-643         7/02/2
VISUAL GRADING SCALE IS A FOLLOWS: M>Nm>EX>VG++>VG+>VG>VG->G+>G>G->POOR

SHW ♪ Shrink Wrap // SB ♪ SPLIT BORDER // WC ♪ WRITTEN COVER // STI ♪ STICKER ON COVER // WL ♪ WRITTEN LABEL // PEL ♪ PEELED COVER // TB ♪ TAPE ON COVER // HOL ♪ HOLE IN COVER // HUME ♪ HUMIDITY ON COVER // CUC ♪ CUT CORNER OR COVER // PROF ♪ SOME CASES THE LPS NEED A CLEANING PROFESSIONAL // STAN ♪ STAIN ON COVER 
LS // light superficial scratches
SSB // seam split bottom. some edge and corner wear. some small light ///
GSH // glossy with some hairlines
SCU // Scuffs & light superficial scratches, //
WIAP // with some surface marks that do not affect play
SCUT // Scuffs & scratches surface marks that do not affect play (TESTED) 
**COMPRADORES CON (10) FEEDBACK O MENOS EN ENVIOS INTERNACIONALES SOLO VIA REGISTRADO POSTAL SOLAMENTE

READ BEFORE BUYING IN MY AUCTIONS & STORE / All payments must be received, No later than (5) days after aution END ,Payment By PAYPAL / METODO DE PAGO POR PAYPAL 

CHRISTMAS TIME FOR PACKAGES WILL TAKE MORE THAN NORMAL FOR THE VOLUME OF SHIPMENTS FOR THAT SEASON, RECOMMEND USING THE SERVICES PRIORITY MAIL AND EXPRESS MAIL (MUST BE PATIENT WITH REGULAR SERVICES IN THAT CHRISTMAS SEASON) Please contact me for details before BIDDING
MEDIA MAIL (1-3 WEEKS) PRIORITY MAIL (2-4 DAYS) EXPRESS (1-2 DAYS) REGISTERED POST (6-8 WEEKS) EXPRESS MAIL INTERNATIONAL (7-10 DAYS) DELIVERY TIME VOLUME CHRISTMAS SEASON
YOU CAN COMBINE SHIPPING COSTS FOR CONTACT ME VIA EMAIL (MAY VARY THE COUNTRY) / PARA COMBINAR LA FACTURA DEBE CONTACTARNOS PARA EL AJUSTE DE LA FACTURA. 

EXPRESS MAIL CONTACT ME VIA EMAIL (MAY VARY THE COUNTRY) (WORLDWIDE) Shipping cost is different based on you location 

PURCHASES INTERNATIONAL VIA FIRST CLASS & REGISTERED US POSTAL / ENVIOS INTERNACIONALES SIN REGISTRADO ES RESPONSABILIDAD COMPLETA DEL COMPRADOR

PURCHASES OVER $200.00 USPS EXPRESS MAIL INTERNATIONAL ONLY

CUSTOMS CHARGES ARE THE RESPONSIBILITY OF BUYER / CUALQUIER CARGO DE TAXES O ARBITRIO REQUERIDO EN EL DESTINO ES RESPONSABLE EL COMPRADOR EN 100%

PURCHASES OVER $500.00 EXPRESS ONLY (US) / COMPRAS MAYOR DE $500.00 VIA EXPRESS MAIL USA

THE BUYER MUST PAY CUSTOMS FEES IN YOUR COUNTRY AND ORIGINAL VALUE PURCHASED / EL COMPRADOR TIENE QUE PAGAR LOS COSTOS DE ADUANAS EN SU PAIS AL VALOR ORIGINAL COMPRADO

PAYMENT OF TAXES ARE THE RESPONSIBILITY OF BUYER IN EVERY PURCHASE / TODO COMPRADOR ES RESPONSABLE DE PAGAR LOS TAXES EN TODAS SUS COMPRAS.

FOR RETURN MAIL COSTS ARE PAID BY BUYER / ALGUNA DEVOLUCION LOS GASTOS DE ENVIO LOS PAGA EL COMPRADOR 

I GRADE ON A SIMPLE SCALE OF SEALED,MINT,-NM,EX,VG+ ,VG , VG-, G , POOR

Please be patient and wait for our invoice