KISS LP Blitz London Live in London 16-May 1976 K-1322 Dragonfly Records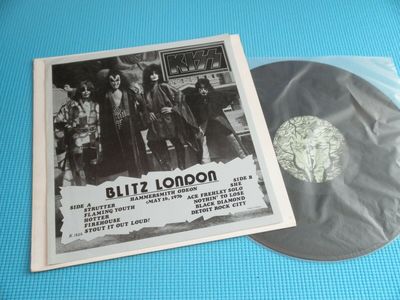 Sold Date: December 4, 2021
Start Date: November 27, 2021
Final Price: €69.99 (EUR)
Bid Count: 1
Seller Feedback: 42840
Buyer Feedback: 0

Items Detail
Artist
 KISS
Title
 Blitz London
Catalog Number
 K-1322
Condition 
 Vinyl: EX+ / Cover: EX+ / Insert: --- / OBI: ---
More Information
This concert is taken from London, on 16th of May 1976. 
Made In Holland is texted lower right corner.

A1Strutter
A2Flaming Youth
A3Hotter Than Hell
A4Firehouse
A5Shout It Out Loud
B1She
B2Ace Frehley Solo
B3Nothing To Lose
B4Black Diamond
B5Detroit Rock City
Shipping Information
LPUSAEurope, Canada
OceaniaAsiaSouth AmericaRegistered Air7~10 Days
EUR22.00
EUR19.00EUR19.00EUR22.00Regular Air7~10 Days---------
---
Express Mail3~5 DaysEUR25.00EUR28.00EUR28.00EUR34.00For purchases over 30 EUR, will send invoice for registered mail option No registered mail fee if you take the risk of non-delivery.
Grading Term
Grading
For Disc
Cover
For insert(Booklet)
For OBI
Sealed Factory Sealed/Brand New/Unopened Same Same Same Mint(M) Like New, Like A Never Played Like New Like New Like New Mint-(M-) No Scartsches, But Many Played --- --- --- EX+ Few Slight Scratched,Scuffs Slight Scratches on Coner Edge Slight Bit Folded,Stain Slight Bit Folded,Stain EX- Many Slight Scratches,
Few Deep Scratches,Scuffs Folded,Ring Wear,Many Scratches Many Folded,Stain,Bit Split Any Fade + As Same As EX+ VG Polish Marks,Many Deep Scratches Large Split + Many Scratches Large Split, Large Split
Happy Bidding !!

Good Luck !!