BARBARA ACKLIN - LOVE MAKES A WOMAN - EX+ ORIGINAL BRUNSWICK 7" SINGLE LISTEN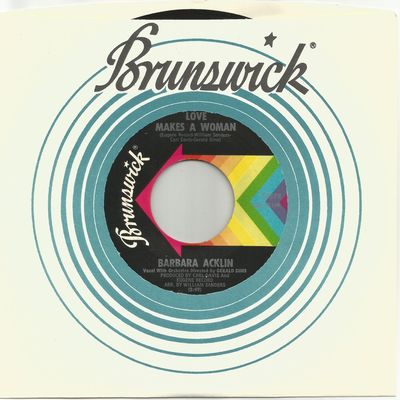 Sold Date: February 7, 2019
Start Date: February 1, 2019
Final Price: £14.00 (GBP)
Seller Feedback: 3559
Buyer Feedback: 7

BARBARA ACKLIN - LOVE MAKES A WOMAN - 7" SINGLE
B/W
COME AND SEE ME BABY
ORIGINAL USA BRUNSWICK RECORDS RELEASE
CLASSIC CHICAGO 60s SOUL
LABELS EXCELLENT+
VINYL EXCELLENT+
REPLICA COMPANY SLEEVE MINT
LISTEN TO THE SONG ON YOU TUBE HERE:
POSTAL DISCOUNTS ON MULTIPLE PURCHASES
PLEASE SEE THE OTHER GREAT ITEMS I HAVE FOR SALE
NEW ITEMS ADDED REGULARLY
I'm thinning out my collection. I've been collecting for over 40 years and acquired a lot of stuff in the early 80s when I was a rep for different record companies. Most of the stuff I'm listing has been played once or not at all so the majority of it is virtually mint. Over the next few weeks I'll be listing Northern, R&B, Blues, Soul, Funk, some rare and some more 80's, Indie, Rock stuff. I'm also selling lots of old, classic PC and Amiga games - look out for some bargains!
LOOK OUT FOR GREAT VINYL, CASSETTES AND CDS AT GREAT PRICES.
RECORD GRADING SYSTEM I USE
(BASED ON RECORD COLLECTORS MAGAZINE GRADING SYSTEM)
MINT  (M): Record/CD: Will be in brand new condition with no surface marks or deterioration in sound quality.
Cover, contents and labels: As new or almost as new
MINT-- (M-) : Record/CD: Shows a few signs of having been played, but there is no lessening in sound quality, plays like a Mint copy.
Cover, contents and labels: might have some very slight wear and/or creasing.
EXCELLENT+ (EX+): Condition in between M- and EX, better than EX but not quite good enough to be classed as M-. Will play extremely well with no background noise, clicks etc.
EXCELLENT (EX) : Record/CD: Has obviously been played quite a number of times, but displays no major deterioration in sound quality despite some surface marks and the odd very light scratch or sleeve scuff mark. 
Cover, contents and labels: Normal wear and tear on the cover or extra items without any major defects is acceptable.
VERY GOOD (VG) : Record/CD: Has been played so much that the sound quality has deteriorated, perhaps with some distortion, clicks and scratches. OK till you can get a better copy! I sell very few VG records and when I do the price reflects their condition ie. They're cheap and cheerful!
Cover, contents and labels: May suffer from folding, scuffing of edges, spine splits, discolouration etc.
ABBREVIATIONS I USE RE :SLEEVES, LABELS, COVERS ETC.
TOP RH CORNER =TOP RIGHT HAND CORNER      LH = LEFT HAND ETC
SMOL = STICKER MARK ON LABEL
SMOS = STICKER MARK ON SLEEVE
WOL = WRITING ON LABEL
WOS = WRITING ON SLEEVE