Ice-T Greatest Hits 2014 Rhino Records Rap Hip Hop Vinyl LP Body Count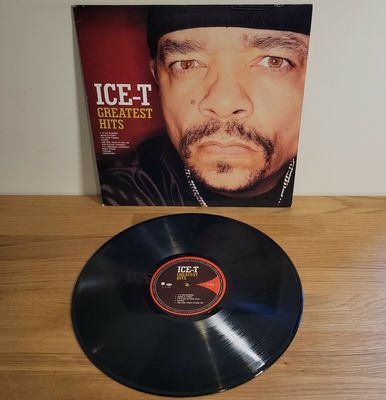 100% Satisfaction Guaranteed 30 Days returns or exchange 100% Secure Payment System SHOP CATEGORIES Vinylmugshot Details:
End of Auction: Please wait for an invoice before sending payment.
Shipping is discounted for additional items purchased.
Contact me if you have won auctions and plan to bid on additional items.
Record Grading:
There are detailed descriptions of our vinyl grading system below. A couple of things to be mindful of when considering record grading: We are not able to play test all records. There are manufacturing defects that are not able to be detected visually. If by rare chance you discover such a hidden defect or any other problem, return the item and a refund will be issued once the defect or problems have been confirmed.
Grading Definitions
NM: (Near Mint)
Nearly new condition. The record or jacket appears to be un-played and displays a very minimum of handling wear.
VG: ++ (Very Good)
A record that has a few visual imperfections with little or no effect to sound.
VG+
More surface marks than the VG++ grade. The record still has a minimal amount of play wear with few audible imperfections.
VG
The record will have more surface scuffs and marks than the above grades. Expect to hear some surface noise and clicks or pops.
VG-
The records will have some deeper audible scratches. There will be more consistent clicking and popping than the VG grade and play without skipping.
G (Good)
The record will have heavy wear, deep scratches and very apparent surface noise, clicks and pops.
Vinyl Updates - Sign up to our Newsletter
Vinylmugshot 2018 All Rights Reserved. Subscribe To