Radiohead - Pablo Honey VINYL LP XLLP779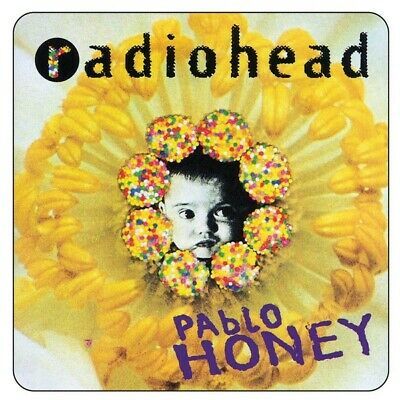 Sold Date: November 25, 2021
Start Date: May 12, 2019
Final Price: £25.99 (GBP)
Seller Feedback: 130384
Buyer Feedback: 0

Menu Customer services Radiohead - Pablo Honey VINYL LP XLLP779 Radiohead - Pablo Honey VINYL LP XLLP779 £25.99 Description Customer Reviews Delivery Payment Returns Description Radiohead - Pablo Honey VINYL LP XLLP779
Pablo Honey is the debut studio album by the English alternative rock band Radiohead, released on 22 February 1993 by Parlophone Records in the United Kingdom and by Capitol Records in the United States. The album was produced by Sean Slade and Paul Q. Kolderie, and was recorded at Chipping Norton Recording Studios and Courtyard Studio in Oxfordshire, England from September to November 1992. The album's title comes from a Jerky Boys prank call skit in which the prank caller says to his victim, "Pablo, honey? Please come to Florida!" This is sampled on the song "How Do You?".
TRACKLIST A1 You
A2 Creep
A3 How Do You?
A4 Stop Whispering
A5 Thinking About You
A6 Anyone Can Play Guitar
B1 Ripcord
B2 Vegetable
B3 Prove Yourself
B4 I Can't B5 Lurgee B6 Blow Out
Customer Reviews Feedback/itemFrom Buyer Date/time Delivery Postage is relevant to Country.    
UK deliveries are made via Royal Mail or Courier.   
Canada & USA delivery are made via Airmail.    
Western Europe deliveries are made via Airmail.    
Australia and New Zealand deliveries are made via Airmail. Payment
Payment
All items must be paid for within 7 days of the transaction date by one of the following payment methods:
Credit Card (All types accepted)
Paypal
Cheque
Postal Order
Bacs Transfer
If you are unable to make payment within the specified time period please let us know as soon as possible.
Returns
Returns
We want you to feel happy with your purchase, so if for any reason you are not, you may send your item(s) back to us within 14 days for a full refund or exchange-free of charge.
Please note, postage costs are non refundable except in the following circumstances:
* the item you receive is different to that ordered.
* OR the item you receive is damaged or faulty.
In the above cases a full refund/exchange will be issued including any additional postage costs incurred by the buyer.*
*Please note, we can only refund up to the minimum postage amount required to send your item(s) back to us. Therefore, we always recommend that items be returned to us using royal mails 2nd class service with recorded delivery for insurance purposes.
All items must be returned to us in their original condition within 14 days of receipt. Please let us know before hand why you are planning on sending an item back to us and remember to include this information in your return. It is also vital that you include your user id & item number so we can deal with your request for a refund or exchange as quickly as possible
All refunds will be issued via your original method of payment and normally take up to 3 working days to process. 
Related products
£19.99
£6.99
£34.99
£14.99
Browse shop Customer services Contact us The Manor House Manor View Whittlesey Peterborough, Cambridgeshire, PE7 1TF Newsletter sign-up Sign up to hear about latest news & offers. Secure payment