Ray Heard ‎– Street Serenade 12" RARE ELECTRO FUNK *INTREPID* '85 EX hear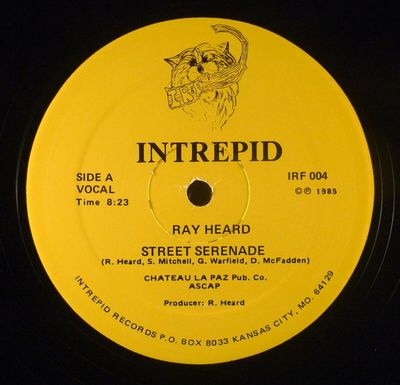 Sold Date: February 13, 2020
Start Date: February 6, 2020
Final Price: $71.00 (USD)
Bid Count: 18
Seller Feedback: 6351
Buyer Feedback: 477
Audio Clips:
To hear audio clips older than 45 days you must become a member. (If you're already a member you need to log in or extend your membership.)
Label:  Intrepid / 1985
Condition:  EX (strong) / Plain Sleeve (shrink)
Comments:  Killer mid 80's joint on the tiny Intrepid imprint.
Clean original.. Never see this!  
--See my other auctions for similar listings this week--
All Records are graded conservatively under a direct bright light. Bid with confidence!
Grading Scale:  NM / EX+ / EX / VG+ / VG / VG- / G 
Note: I combine shipping on all orders! 
Worldwide 
1-3 Records = $25
4-5 Records = $38
6-7 Records = $54
Canada
1-2 Records = $17
3-4 Records = $28
5-7 Records = $40
USA 
$5.00 / 1.00 each