May Blitz SELF TITLED DEBUT UK LP 1970 Vertigo Swirl 1st Press MINT AUDIO LISTEN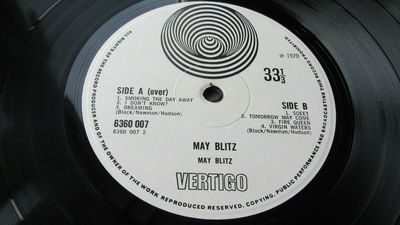 Sold Date: July 24, 2021
Start Date: July 17, 2021
Final Price: £362.00 (GBP)
Bid Count: 17
Seller Feedback: 3978
Buyer Feedback: 535
Audio Clips:
To hear audio clips older than 45 days you must become a member. (If you're already a member you need to log in or extend your membership.)
GG-SUPERSOUNDS HAVE MANY VARIED ALBUMS AND SINGLES FOR SALE


UNLIKE THE MAJORITY OF OUR LISTINGS, THESE WILL INCLUDE (WHERE PRACTICAL) THE COMPLETE RECORDING OF THE RECORD, SO THAT YOU ARE ABLE TO HEAR EXACTLY WHAT YOU ARE BIDDING ON
THESE WILL BE LISTED AROUND 6PM DAILY
PRESS THE PLAY BUTTONS BELOW TO HEAR EACH SIDE OF THE RECORD Powered by eCommercePlayer.com Powered by eCommercePlayer.com >

MAGNIFICENT EXAMPLE OF THIS RARE ALBUM

MAY BLITZ - MAY BLITZ
 MAGNIFICENT MINT AUDIO - ABSOLUTELY PERFECT FROM START TO FINISH
SUPERB NEAR MINT GATEFOLD SLEEVE
TAKE A LISTEN TO THE AUDIO AND HEAR FOR YOURSELF HOW GREAT THIS SOUNDS
CATALOGUE:VERTIGO 6360007 MATRIX: 6360 037 1Y//1 / 2Y//1
THE RECORDS
THE LABELS
THE WHITE BASE COLOUR ON  THE 'B' SIDE IS STILL PURE WHITE. THERE ARE NO SIGNS OF MARKS OR STAINS ETC. 
THE COLOUR FULLY STRETCHES UNBLEMISHED INTO THE UNWORN SPINDLE HOLE. THE BLACK TYPEFACE IS ALSO PRISTINE AND PERFECTLY LEGIBLE.
THERE ARE JUST 2-3 REALLY TINY SPIDER LINSE VERY CLOSE TO THE SPINDLE HOLE 
THE SPIRAL SIDE IS ALSO IN PERFECT CONDITION
THE VINYL
INCREDIBLE GLOSSY MINT CONDITION VINYL.
THERE IS NOT ONE MARK ON IT ANYWHERE, AND EVEN UNDER INTENSE ILLUMINATION THERE IS NOTHING TO SEE, OTHER THAN A COUPLE OF TINY NEAR INVISIBLE WISPY HAIRLINES
SUPERB CONDITION ON BOTH SIDES
WE DO BELIEVE THAT A RARE LP SHOULD BE ABLE TO BE HEARD BY BIDDERS AND SO THAT IS WHAT WE HAVE  INVESTED IN. THE BUTTONS AT THE TOP OF THE PAGE WILL ALLOW YOU TO HEAR THE ACTUAL RECORD YOUR ARE THINKING OF BIDDING ON
THIS IS A SERVICE WE ARE DELIGHTED TO BE ABLE TO OFFER OUR CUSTOMERS
THE CLARITY OF THIS FIRST PRESS IS JUST BRILLIANT. IT PLAYS TO ABSOLUTE PERFECTION ALL THE WAY THROUGH BOTH SIDES, AND THE FIRST THING THAT IS EVIDENT IS THAT THERE IS NOT ONE JOT OF DISTORTION WHATSOEVER AT ANY POINT, MEANING THAT THE LITTLE PLAY THE LP HAS RECEIVED WAS CONDUCTED ON A SYSTEM THAT HAD AN UNWORN AND CORRECTLY WEIGHTED STYLUS
THE STEREO REPRODUCTION ' IS SUPERB, AND EVERY NOTE IS HEARD AS WAS ORIGINALLY INTENDED
I DON'T THINK I HAVE EVER HEARD A CLEANER COPY THAN THIS
THERE IS NO BACKGROUND CRACKLE WHATSOEVER, AND NO CLICKS, AND INCREDIBLY BEARING IN MIND HOW MANY QUIET PASSAGES THERE ARE ON THIS ALBUM, NO  AUDIBLE STATIC
NO VINYL NOISE WHATSOEVER EITHER
NO POPS OR TICS OR CLICKS
AN ABSOLUTELY MAGNIFICENT FIRST PRESS OF THIS RARE ALBUM
WE HAVE NO HESITATION WHATSOEVER IN GRADING THIS AUDIO PERFORMANCE AS MINT 
PLEASE DON'T JUST TAKE OUR WORD FOR IT THOUGH, TAKE A LISTEN AND JUDGE FOR YOURSELF
THE SLEEVE
NON LAMINATED GATEFOLD SLEEVE
THE FRONT SURFACE IS TOTALLY FLAT AND HAS RETAINED ALL OF THE EASILY RUBBED COLOURS.
THE WHITE AREAS WHICH ARE USUSALLY VERY GRUBBY, IN THIS CASE ARE NEAR PERFECT WITH JUST A COUPLE OF TINY SPECKS OF HANDLING/AGEING
THERE IS NO RING WEAR OR RECORD SHAPE
THERE ARE NO HEAVY CREASE LINES.
THERE ARE TWO NEAR INVISIBLE TINY PRESSURE LINES BY THE SPINE. THREE EQUALLY SMALL ONES ON THE TOP EDGE,  AND TWO ON THE BOTTOM EDGE. NO THUMB LINES NEAR THE OPENING EDGE
THE TOP EDGES ARE TOTALLY UNRUBBED MOST OF THE WAY ACROSS WITH JUST A LITTLE BIT ON THE CORNER TIPS
THE BOTTOM EDGES HAVE A LITTLE LIGHT SHELF RUB
THE SPINE IS FLAT AND FREE FROM ANY SQUAHSES. THE WHITE TYPEFACE IS PERFECTLY LEGIBLE.
THERE IS SOME LIGHT RUB TO THE LEADING EDGES AND THE TOP AND BOTTOM TIPS
THE REAR SURFACE IS ALSO COLOUR RICH WITH JUST A LITTLE HANDLING / AGEING TO THE EDGES
OPENING THE GATEFOLD REVEALS A VERY CLEAN FLESH COLOURED INNER SURFACE. 
THE FIRST PRESS INNER SLEEVE IS THE SWIRL POLY LINED ONE. IT HAS THE CORRECT DATE OF 09/70 IN THE BOTTOM LEFT CORNER AND IS FREE FROM ANY SPLITS
THERE IS SOME AGEING TO THE EDGES
THIS  SLEEVE HAS TO GRADE NEAR MINT
WE COMBINE SHIPPING                     
Shipping: 
We will only send signed for or tracked and signed if EU or the rest of the world. this is to protect both buyer and seller
Your Purchase will be send inside a very protective square cornered professional package
The record will be removed from the sleeve and placed inside a new poly inner sleeve and separated from the cover
The sleeve and record will then have a new outer protective sleeve placed around it