THE BEATLES 1969 UK 1ST PRESS ABBEY ROAD MISALIGNED APPLE + NO HER MAJESTY EX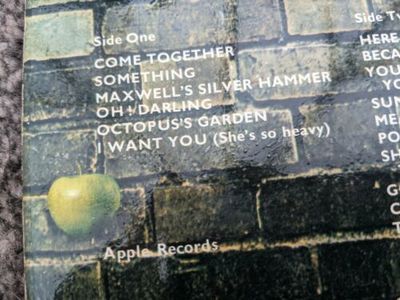 Sold Date: October 28, 2021
Start Date: October 18, 2021
Final Price: £183.00 (GBP)
Bid Count: 16
Seller Feedback: 801
Buyer Feedback: 0

ALL none paying bidders will be reported to eBay and blocked from all auctions.
I have been collecting Beatles vinyl and memorabilia for 30+ years. I have now decided to sell my vast collection which includes many rarities. Please follow my auctions for a huge amount of original Beatles vinyl and memorabilia to be listed every week when possible.
The Beatles 'Abbey Road'. PCS 7088.
The Beatles 1969 UK 1st pressing of the 'Abbey Road' vinyl LP. This is the very earliest issue of this iconic album. It has the following features which were spotted and replaced on future issues:
The sleeve features the misaligned Apple logo on the back. It should be aligned with the track listing.
The vinyl label and sleeve both miss out the track 'Her Majesty'.
The front sleeve features part of a drain on the bottom of the zebra crossing 'the drain sleeve'. This was airbrushed on later issues (see picture which shows both issues).
This also includes the original white 'patent applied for' inner sleeve.
I will also include a new inner sleeve to protect the original and a protective outer poly sleeve.
Matrix info:
Side one: YEX 749-2 6 OGR
Side two: YEX 750-1 1 ATA
Vinyl condition: VERY GOOD/VERY GOOD+
Sleeve condition: EXCELLENT
Inner sleeve condition: VERY GOOD+
Carefully visually graded with UK Record Collector system. I will combine postage in the UK to save you some money.
Outside the UK I am now forced to use the eBay Global Shipping Program which does not allow for combined postage, sorry.
Postage:
UK recorded delivery: £4.95 (£1 per extra single LP).
OUTSIDE UK: eBay Global Shipping Program.
LOTS MORE BEATLES ITEMS LISTED.