Energy 52 - Café Del Mar '98 (Oliver Lieb / Hybrid Remixes) (12")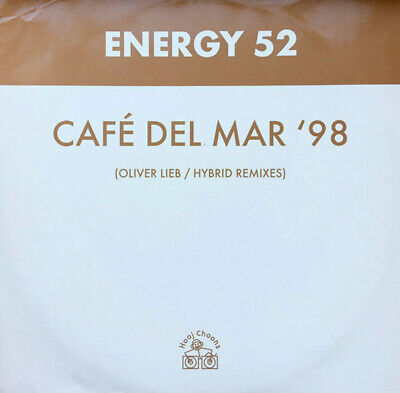 Sold Date: November 8, 2022
Start Date: October 8, 2022
Final Price: £15.49 (GBP)
Seller Feedback: 25385
Buyer Feedback: 0

Shop Menu Energy 52 - Café Del Mar '98 (Oliver Lieb / Hybrid Remixes) (12") Artist Energy 52 Title Café Del Mar '98 (Oliver Lieb / Hybrid Remixes) Label Hooj Choons Cat No HOOJ 64X Format
1 x Vinyl, 12", 33 ⅓ RPM
Format Quantity 1 Media Condition Very Good Plus (VG+) Sleeve Condition Very Good (VG) Comments Cleaned in a Degritter - the best ultrasonic record cleaning machine. 2" split in seam. PositionTitleDurationACafé Del Mar '98 (Oliver Lieb's LSG Remix)BCafé Del Mar '98 (Hybrid's Time Traveller Remix)
PLEASE NOTE: IMAGES ARE STOCK IMAGES, AND MAY NOT REPRESENT THE FINAL PRODUCT. PLEASE READ PRODUCT LISTING CAREFULLY FOR ANY DEFECTS OR VARIATIONS.
Grading System
We use the following grading system to stipulate the condition of items we offer for sale.

Note ON CD's- Standard Jewel Cases: Standard Jewel Cases are not graded as they are replaceable.

Mint (M)

Vinyl

Absolutely perfect in every way. Certainly never been played, possibly even still sealed.

CD

Perfect. No scuffs/scratches, unplayed - possibly still sealed. The insert/Inlay/Booklet/Sleeve/Digipak: Perfect. No wear, marks, or any other imperfections - possibly still sealed.

Near Mint (NM or M-)

Vinyl

A nearly perfect record. A NM- record has more than likely never been played, and the vinyl will play perfectly, with no imperfections during playback. The record should show no obvious signs of wear. A 45 RPM or EP sleeve will have no more than the most minor defects, such as any sign of slight handling. An LP cover will have no creases, folds, seam splits or other noticeable similar defects. The same will be true of any other inserts, such as posters, lyric sleeves, etc.

CD

Near perfect. No obvious signs of use, it may have been played - but it has been handled very carefully. Insert/Inlay/Booklet/Sleeve/Digipak: Near Perfect. No obvious wear, it may have only the slightest of marks from handling.

Very Good Plus (VG+)

Vinyl

A Very Good Plus record will show some signs that it was played and otherwise handled by a previous owner who took good care of it. Defects should be more of a cosmetic nature, not affecting the actual playback as a whole. Record surfaces may show some signs of wear and may have slight scuffs or very light scratches that don't affect one's listening experiences. Slight warps that do not affect the sound are "OK". Spindle marks may be present. Picture sleeves and inner sleeves will have some slight wear, slightly turned-up corners, or a slight seam split. An LP cover may have slight signs of wear, and may be marred by a cut-out hole, indentation, or cut corner.

CD

A few minor scuffs/scratches. This has been played, but handled with good care - and certainly not abused. Insert/Inlay/Booklet/Sleeve/Digipak: Slight wear, marks, indentations, it may possibly have a cut-out hole (or similar).

Very Good (VG)

Vinyl

Many of the defects found in a VG+ record will be more pronounced in a VG disc. Surface noise will be evident upon playing, especially in soft passages and during a song's intro and fade, but will not overpower the music otherwise. Groove wear will start to be noticeable, as with light scratches (deep enough to feel with a fingernail) that will affect the sound. Labels may be marred by writing, or have tape or stickers (or their residue) attached. The same will be true of picture sleeves or LP covers.

CD

Quite a few light scuffs/scratches, or several more-pronounced scratches. This has obviously been played and not handled as carefully as a VG+. Insert/Inlay/Booklet/Sleeve/Digipak: More wear, marks, indentations than a VG+. May have slight fading, small tears/rips and possibly some writing.

Good Plus (G+)

Vinyl

A record in Good Plus condition can be played through without skipping. But it will have significant surface noise, scratches, and visible groove wear. A cover or sleeve will have seam splits, especially at the bottom or on the spine. Tape, writing, ring wear, or other defects will be present. While the record will be playable without skipping, noticeable surface noise and "ticks" will almost certainly accompany the playback.

CD

There are a lot of scuffs/scratches. However it will still play through without problems. This has not been handled with much care at all. Insert/Inlay/Booklet/Sleeve/Digipak: Well worn, marked, more obvious indentations, fading, writing, than a VG - possibly a more significant tear/rip.


© Copyright 2020 Dempsters-Discs | All Rights Reserved