SP FRENCH POP MYLENE FARMER "ON EST TOUS DES IMBECILES" 1985 FRENCH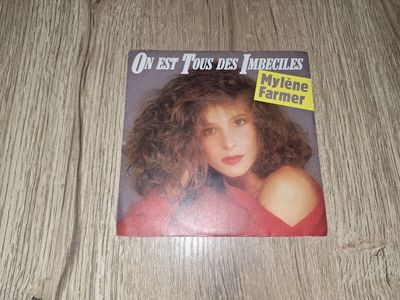 Sold Date: June 20, 2023
Start Date: June 13, 2023
Final Price: €58.00 (EUR)
Bid Count: 29
Seller Feedback: 22223
Buyer Feedback: 0

possibilite pour les envois a l'etranger d'utiliser les tarifs postaux "livres et brochures" tres avantageux .
par contre delais de livraison un peu plus lent et pas de numero de suivi possible .
a possibility for shipments abroad to use postal rates " books and pamphlets " very advantageous.
by against delivery times a bit slower and can no tracking number .

europe 500g : 1,50 euro / 1kg to 2kg  : 4,00 euro / ....
amerique / asie : 500 g : 2,50 euro / 1kg to 2kg 6,00
RCA PB 61556
DISQUE : EX
POCHETTE : EX-
POUR UN ENVOI EN COLISSIMO OU EN SUIVI ME CONTACTER