Autographed Signed Justin Bieber X Drew House Yummy Single 7" Vinyl LP IN HAND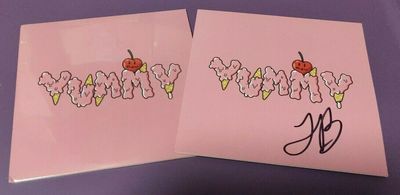 Sold Date: September 30, 2021
Start Date: October 31, 2020
Final Price: $49.99 (USD)
Seller Feedback: 684
Buyer Feedback: 0

For sale is a brand new, authentic signed copy of the 7" Vinyl LP for Yummy by Justin Bieber. This was purchased by me directly from the official Justin Beiber online store in January, and has been unavailable for purchase since then.
The sale will include a 7" Vinyl of Yummy in the original shrink wrap, along with a signed sleeve for the vinyl. Due to the lighting, the item doesn't seem that pink in the photos, but is actually a bit darker pink in person.
Will ship for free within 2 business days of payment with USPS First Class or better in secure packaging. Most items will ship within 1 business day.