Tiny Moving Parts - Pleasant Living Vinyl Record LP RARE NEW SEALED READ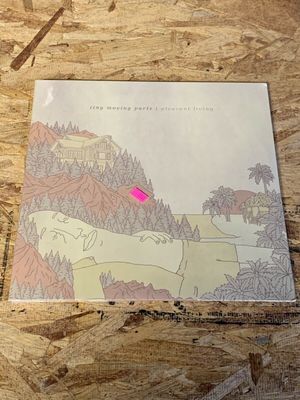 Sold Date: May 3, 2021
Start Date: April 3, 2020
Final Price: $34.99 (USD)
Seller Feedback: 5157
Buyer Feedback: 0

Item Description 
Tiny Moving Parts - Pleasant Living Vinyl Record LP RARE NEW SEALED READ, record is new unremoved from packaging, sleeve & shrink may have some wear & tear marks, see photos for examples, shrink may have torn in a few spots on some of these. 
All items are described to the best of my abilities, please make sure you view all pictures and ask any necessary questions before purchasing/bidding. I try to be thorough and check everything but I am not an expert regarding many of the types of items I have for sale.
Additionally, many of my items are New old Stock meaning they are unopened or unused, the packaging may have wear and tear from storage, age , or shipping from original retailer, in some cases the packaging may vary for the same items due to changes that the manufacturer made over a period of time, this is the case with some of the new items that I have multiples of.  

*Updated Terms of Sale/ Returns* IMPORTANT
By purchasing the item you are stating that you have read the description provided and have extensively viewed all supplied photos. You are entering into a binding agreement to receive the item represented by me in the listing. Any attempt to defraud me of an item or the funds used to pay for the item without consulting the proper resolution channels will be subject to legal recourse. 
I do not accept returns due to change of mind or any other uncontrollable reason (bought by mistake, account was hacked, child clicked a button, etc). In situations where the return is warranted by eBay policy (NOT AS DESCRIBED, WRONG ITEM SENT, OR DAMAGED) I will work with you to remedy the situation as easily as possible. Often the item will need to be returned to me in accordance with eBay return policies and a shipping label will be provided through the return case when this applies. IF I DO ALLOW A RETURN FOR A REASON NOT COVERED ABOVE IT MAY BE SUBJECT TO A 15% RESTOCKING FEE TO COVER FEES INCURRED. I DO NOT ACCEPT RETURNS FOR NEW SEALED ITEMS ONCE OPENED UNLESS THEY HAVE ARRIVED BROKEN OR NOT AS DESCRIBED ACCORDING TO MY LISTING PHOTOS AND DESCRIPTION. 


Shipping Information
I ship all of my items one of three ways, UPS Ground (for oversized or heavier items), USPS Priority mail (for most of my items unless they are very light, heavy, or large), USPS 1st Class Mail (mostly for the small items). Shipping is free for all fixed price listings unless the size and dimensions vary so greatly that I need to charge a flat feet to cover my cost incurred, if you are located in an area that is part of my exclusion list I apologize but I will not ship to your location for free (Alaska, Hawaii, PR).International shipping is handled by eBay global shipping and billed by them. Items that are sold for more than $250 are shipped with signature confirmation at my expense. Expect shipping within 1-3 business days of sale according to my stated handling time unless otherwise noted in the listing. Do not request shipment sooner than the range specified at the time of the sale. I do my best to ship earlier than advertised but I do not accommodate special shipment request and reserve the right to cancel the sale when unrealistic shipment terms are requested or expected.

THANK YOU FOR YOUR BUSINESS!
ATTENTION ALL BUYERS!!!
AS OF 6/1/2020 ALL FIRST CLASS AND MEDIA MAIL PACKAGES ARE EXPERIENCING DELAYS. HARD HIT AREAS LIKE NEW YORK AND ELSEWHERE ARE FURTHER DELAYED. YOU HAVE ACCESS TO THE INTERNET JUST BY USING THIS SITE SO DO YOUR HOMEWORK BY VISITING THE USPS WEBSITE AND CHECKING ON DELAYS TO YOUR AREA
BEFORE
PURCHASING FROM ME.