Original 1959 Vintage FRANK SINATRA No One Cares Capitol Record VINYL Album LP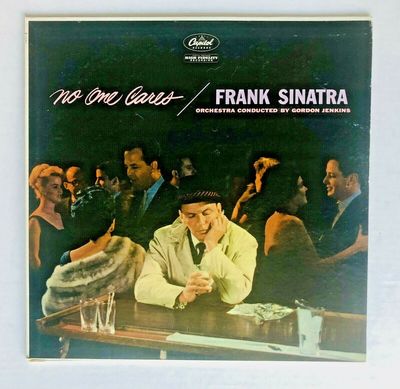 Sold Date: November 25, 2021
Start Date: November 12, 2021
Final Price: $18.99 (USD)
Seller Feedback: 324
Buyer Feedback: 0

RARE ORIGINAL VINTAGE 1959 FRANK SINATRA No One Cares Record Album LP Vinyl 
Offered here is a VERY RARE Original 1959 Vintage FRANK SINATRA No One Cares Record Album LP Vinyl. 
Please see all 11 clear pictures.
 This Original 1959 Vintage Frank Sinatra Record Album looks to be in really Amazing Condition. The Record inside really looks Perfect and very clean with no scratches and looks like it was never played. The Record inside is Very Clean and looks to be in Excellent - Near Mint condition. I do not have a Record player so I have no way to test the record or play the record But this really looks to be in High Grade Excellent - Near Mint condition for a record from 1959. I included many pictures of both sides of the record so you can clearly see how clean both sides are. 
I am Selling a Large Frank Sinatra Record Collection and all of the records came from one mans personal collection and all Vinyl Records seem to be in High grade Excellent - Near Mint Condition. I will be listing over 20+ Rare Frank Sinatra Records here on eBay over the next few days.
PLEASE SEE ALL 11 CLEAR PICTURES FOR EXACT CONDITION OF THIS RARE LP VINYL RECORD
What you see is what you get, All items are Sold As Is, All sales are final. There are No Returns and No Refunds 
Please Bid with Confidence and just message me if you have any questions or would like any additional pictures.
BUY IT NOW!!
THIS IS THE REAL DEAL!! 
I Mail all items Worldwide by USPS Priority mail Insured with Tracking and a Signature Confirmation. 
International Shipping Cost depends on where you are located 
(For Example Shipping to Canada is much less then shipping to Japan So I will adjust the Cost of Shipping for you)
PLEASE BID WITH CONFIDENCE
Francis Albert Sinatra
December 12, 1915 – May 14, 1998 was an American singer and actor who is generally perceived as one of the greatest musical artists of the 20th century. He is one of the best-selling music artists of all time, having sold an estimated 150 million records worldwide.
Born to Italian immigrants in Hoboken, New Jersey, Sinatra was greatly influenced by the intimate, easy-listening vocal style of Bing Crosby and began his musical career in the swing era with bandleaders Harry James and Tommy Dorsey. Sinatra found success as a solo artist after he signed with Columbia Records in 1943, becoming the idol of the "bobby soxers". Sinatra released his debut album, The Voice of Frank Sinatra, in 1946. However, by the early 1950s, his professional career had stalled and he turned to Las Vegas, where he became one of its best known residency performers as part of the Rat Pack. His career was reborn in 1953 with the success of the film From Here to Eternity, his performance subsequently earning him an Academy Award, and a Golden Globe Award for Best Supporting Actor. Sinatra then released several critically lauded albums, some of which are retrospectively noted as being among the first "concept albums", including In the Wee Small Hours (1955), Songs for Swingin' Lovers! (1956), Come Fly with Me (1958), Only the Lonely (1958), No One Cares (1959), and Nice 'n' Easy (1960).
Sinatra left Capitol in 1960 to start his own record label, Reprise Records, and released a string of successful albums. In 1965, he recorded the retrospective album September of My Years and starred in the Emmy-winning television special Frank Sinatra: A Man and His Music. After releasing Sinatra at the Sands, recorded at the Sands Hotel and Casino in Vegas with frequent collaborator Count Basie in early 1966, the following year he recorded one of his most famous collaborations with Tom Jobim, the album Francis Albert Sinatra & Antonio Carlos Jobim. It was followed by 1968's Francis A. & Edward K. with Duke Ellington. Sinatra retired for the first time in 1971, but came out of retirement two years later. He recorded several albums and resumed performing at Caesars Palace, and released "New York, New York" in 1980. Using his Las Vegas shows as a home base, he toured both within the United States and internationally until shortly before his death in 1998.
Sinatra forged a highly successful career as a film actor. After winning an Academy Award for From Here to Eternity, he starred in The Man with the Golden Arm (1955), and in The Manchurian Candidate (1962). He appeared in various musicals such as On the Town (1949), Guys and Dolls (1955), High Society (1956), and Pal Joey (1957), winning another Golden Globe for the latter. Toward the end of his career, he frequently played detectives, including the title character in Tony Rome (1967). Sinatra would later receive the Golden Globe Cecil B. DeMille Award in 1971. On television, The Frank Sinatra Show began on ABC in 1950, and he continued to make appearances on television throughout the 1950s and 1960s. Sinatra was also heavily involved with politics from the mid-1940s, and actively campaigned for presidents such as Franklin D. Roosevelt, Harry S. Truman, John F. Kennedy and Ronald Reagan. Sinatra was investigated by the FBI for his alleged relationship with the Mafia.
While Sinatra never learned how to read music, he worked very hard from a young age to improve his abilities in all aspects of music. A perfectionist, renowned for his dress sense and performing presence, he always insisted on recording live with his band. His bright blue eyes earned him the popular nickname "Ol' Blue Eyes". Sinatra led a colorful personal life, and was often involved in turbulent affairs with women, such as with his second wife Ava Gardner. He later married Mia Farrow in 1966 and Barbara Marx in 1976. Sinatra had several violent confrontations, usually with journalists he felt had crossed him, or work bosses with whom he had disagreements. He was honored at the Kennedy Center Honors in 1983, was awarded the Presidential Medal of Freedom by Ronald Reagan in 1985, and the Congressional Gold Medal in 1997. Sinatra was also the recipient of eleven Grammy Awards, including the Grammy Trustees Award, Grammy Legend Award and the Grammy Lifetime Achievement Award. He was included in Time magazine's compilation of the 20th century's 100 most influential people. After Sinatra's death, American music critic Robert Christgau called him "the greatest singer of the 20th century", and he continues to be seen as an iconic figure.
Sinatra began singing professionally as a teenager, but he learned music by ear and never learned to read music. He got his first break in 1935 when his mother persuaded a local singing group, the 3 Flashes, to let him join. Fred Tamburro, the group's baritone, stated that "Frank hung around us like we were gods or something", admitting that they only took him on board because he owned a car and could chauffeur the group around. Sinatra soon learned they were auditioning for the Major Bowes Amateur Hour show, and "begged" the group to let him in on the act. With Sinatra, the group became known as the Hoboken Four, and passed an audition from Edward Bowes to appear on the Major Bowes Amateur Hour show. They each earned $12.50 for the appearance, and ended up attracting 40,000 votes and won first prize—a six-month contract to perform on stage and radio across the United States. Sinatra quickly became the group's lead singer, and, much to the jealousy of his fellow group members, garnered most of the attention from girls. Due to the success of the group, Bowes kept asking for them to return, disguised under different names, varying from "The Secaucus Cockamamies" to "The Bayonne Bacalas".
In 1938, Sinatra found employment as a singing waiter at a roadhouse called "The Rustic Cabin" in Englewood Cliffs, New Jersey, for which he was paid $15 a week. The roadhouse was connected to the WNEW radio station in New York City, and he began performing with a group live during the Dance Parade show. Despite the low salary, Sinatra felt that this was the break he was looking for, and boasted to friends that he was going to "become so big that no one could ever touch him". In March 1939, saxophone player Frank Mane, who knew Sinatra from Jersey City radio station WAAT where both performed on live broadcasts, arranged for him to audition and record "Our Love", his first solo studio recording.
In June, bandleader Harry James, who had heard Sinatra sing on "Dance Parade", signed a two-year contract of $75 a week one evening after a show at the Paramount Theatre in New York. It was with the James band that Sinatra released his first commercial record "From the Bottom of My Heart" in July. No more than 8,000 copies of the record were sold, and further records released with James through 1939, such as "All or Nothing at All", also had weak sales on their initial release. Thanks to his vocal training, Sinatra could now sing two tones higher, and developed a repertoire which included songs such as "My Buddy", "Willow Weep for Me", "It's Funny to Everyone but Me", "Here Comes the Night", "On a Little Street in Singapore", "Ciribiribin", and "Every Day of My Life".
Sinatra became increasingly frustrated with the status of the Harry James band, feeling that he was not achieving the major success and acclaim he was looking for. His pianist and close friend Hank Sanicola persuaded him to stay with the group, but in November 1939 he left James to replace Jack Leonard as the lead singer of the Tommy Dorsey band. Sinatra earned $125 a week, appearing at the Palmer House in Chicago, and James released Sinatra from his contract.
On January 26, 1940, he made his first public appearance with the band at the Coronado Theatre in Rockford, Illinois, opening the show with "Stardust". Dorsey recalled: "You could almost feel the excitement coming up out of the crowds when the kid stood up to sing. Remember, he was no matinée idol. He was just a skinny kid with big ears. I used to stand there so amazed I'd almost forget to take my own solos". Dorsey was a major influence on Sinatra and became a father figure. Sinatra copied Dorsey's mannerisms and traits, becoming a demanding perfectionist like him, even adopting his hobby of toy trains. He asked Dorsey to be godfather to his daughter Nancy in June 1940. Sinatra later said that "The only two people I've ever been afraid of are my mother and Tommy Dorsey". Though Kelley says that Sinatra and drummer Buddy Rich were bitter rivals, other authors state that they were friends and even roommates when the band was on the road, but professional jealousy surfaced as both men wanted to be considered the star of Dorsey's band. Later, Sinatra helped Rich form his own band with a $25,000 loan and provided financial help to Rich during times of the drummer's serious illness.
In his first year with Dorsey, Sinatra recorded over forty songs. Sinatra's first vocal hit was the song "Polka Dots and Moonbeams" in late April 1940.
Two more chart appearances followed with "Say It" and "Imagination", which was Sinatra's first top-10 hit. His fourth chart appearance was "I'll Never Smile Again", topping the charts for twelve weeks beginning in mid-July.
Other records with Tommy Dorsey issued by RCA Victor include "Our Love Affair" and "Stardust" in 1940; "Oh! Look at Me Now", "Dolores", "Everything Happens to Me", and "This Love of Mine" in 1941; "Just as Though You Were There", "Take Me", and "There Are Such Things" in 1942; and "It Started All Over Again", "In the Blue of Evening", and "It's Always You" in 1943. As his success and popularity grew, Sinatra pushed Dorsey to allow him to record some solo songs. Dorsey eventually relented, and on January 19, 1942, Sinatra recorded "Night and Day", "The Night We Called It a Day", "The Song is You", and "Lamplighter's Serenade" at a Bluebird recording session, with Axel Stordahl as arranger and conductor. Sinatra first heard the recordings at the Hollywood Palladium and Hollywood Plaza and was astounded at how good he sounded. Stordahl recalled: "He just couldn't believe his ears. He was so excited, you almost believed he had never recorded before. I think this was a turning point in his career. I think he began to see what he might do on his own".
After the 1942 recordings, Sinatra believed he needed to go solo, with an insatiable desire to compete with Bing Crosby, but he was hampered by his contract which gave Dorsey 43% of Sinatra's lifetime earnings in the entertainment industry. A legal battle ensued, eventually settled in August 1942. On September 3, 1942, Dorsey bade farewell to Sinatra, reportedly saying as Sinatra left, "I hope you fall on your ass", but he was more gracious on the air when replacing Sinatra with singer Dick Haymes. Rumors began spreading in newspapers that Sinatra's mobster godfather, Willie Moretti, coerced Dorsey to let Sinatra out of his contract for a few thousand dollars, holding a gun to his head. Upon leaving Dorsey, Sinatra persuaded Stordahl to come with him and become his personal arranger, offering him $650 a month, five times his salary from Dorsey. Dorsey and Sinatra, who had been very close, never reconciled their differences. Up until his death in November 1956, Dorsey occasionally made biting comments about Sinatra to the press such as "he's the most fascinating man in the world, but don't put your hand in the cage".
The Muppets were created by Jim Henson in 1955 and originated in the short form TV series Sam and Friends which aired from 1955 - 1961. The Muppets were on Late Night talk shows and in Sesame Street. Then in 1976 The Muppet Show was one of the Best shows on Television with Kermit the Frog Fozzie the Bear Gonzo Rowlf the Dog Scooter Rizzo the Rat The Swedish Chef Animal on Drums Waldorf and Statler and so many more. There were also many Muppet Movies like The Great Muppet Caper and The Muppets Take Manhattan. The Muppet Babies and Muppets from Space Palisades 
TMNT Created by Kevin Eastman and Peter Laird The Turtles originated in comic book published by Mirage Studios Leonardo Michelangelo Donatello Raphael Master Splinter April O'Neil The Shredder Krang Bebop and Rocksteady are just some of the main characters from the famous cartoon and comic 
The Dark Knight is a 2008 superhero film directed, produced, and co-written by Christopher Nolan. Based on the DC Comics character Batman, the film is the second installment of Nolan's The Dark Knight Trilogy and a sequel to 2005's Batman Begins, starring Christian Bale and supported by Michael Caine, Heath Ledger, Gary Oldman, Aaron Eckhart, Maggie Gyllenhaal, and Morgan Freeman. In the film, Bruce Wayne / Batman (Bale), Police Lieutenant James Gordon (Oldman) and District Attorney Harvey Dent (Eckhart) form an alliance to dismantle organized crime in Gotham City, but are menaced by an anarchistic mastermind known as the Joker (Ledger), who seeks to undermine Batman's influence and turn the city to chaos.
Nolan's inspiration for the film was the Joker's comic book debut in 1940, the 1988 graphic novel The Killing Joke, and the 1996 series The Long Halloween, which retold Harvey Dent's origin. The "Dark Knight" nickname was first applied to Batman in Batman #1 (1940), in a story written by Bill Finger. The Dark Knight was filmed primarily in Chicago, as well as in several other locations in the United States, the United Kingdom, and Hong Kong. The film was the first mainstream feature to partially utilize IMAX 70 mm cameras, with Nolan using them for 28 minutes of the film, including the Joker's first appearance. Warner Bros. initially created a viral marketing campaign for The Dark Knight, developing promotional websites and trailers highlighting screenshots of Ledger as the Joker. Ledger died on January 22, 2008, some months after he completed filming and six months before the film's release from a toxic combination of prescription drugs, leading to intense attention from the press and movie-going public.
Upon its release on July 18, 2008, The Dark Knight achieved significant critical and commercial success. With over $1 billion in revenue worldwide, it became the highest-grossing film of 2008 and is the 46th-highest-grossing film of all time, unadjusted for inflation (4th at the time of release); it also set the record for highest-grossing domestic opening with $158 million, a record it held for three years. At the 81st Academy Awards, the film received eight nominations; it won the award for Best Sound Editing and Ledger was posthumously awarded Best Supporting Actor. The Dark Knight is considered one of the best films of its decade and one of the best superhero films ever made. The Dark Knight Rises, the final film in the trilogy, was released on July 20, 2012.
Batman is a 1989 Superhero film Directed by the famous Tim Burton of Beetlejuice and produced by Jon Peters and Peter Guber and is based on the DC Comics Character Batman created by Bob Kane. The Dark Knight of Gotham City Batman is played by Michael Keaton as Bruce Wayne / Batman. The Movie also stars Kim Basinger Robert Wuhl Billy Dee Williams and Jack Palance
Star Wars is an American epic space opera media franchise, centered on a film series created by George Lucas. It depicts the adventures of various characters "a long time ago in a galaxy far, far away". The franchise began in 1977 with the release of the film Star Wars (later subtitled Episode IV: A New Hope in 1981), which became a worldwide pop culture phenomenon. It was followed by the successful sequels The Empire Strikes Back (1980) and Return of the Jedi (1983) these three films constitute the original Star Wars trilogy. A prequel trilogy was released between 1999 and 2005, which received mixed reactions from both critics and fans. A sequel trilogy began in 2015 with the release of Star Wars: The Force Awakens and continued in 2017 with the release of Star Wars: The Last Jedi. The first eight films were nominated for Academy Awards (with wins going to the first two films released) and have been commercial successes, with a combined box office revenue of over US $8.5 billion, making Star Wars the second highest-grossing film series. Spin-off films include the animated Star Wars: The Clone Wars (2008) and Rogue One (2016), the latter of which is the first in a planned series of anthology films.
The series has spawned an extensive media franchise including books, television series, computer and video games, theme park attractions and lands, and comic books, resulting in significant development of the series' fictional universe. Star Wars holds a Guinness World Records title for the "Most successful film merchandising franchise". In 2015, the total value of the Star Wars franchise was estimated at US $42 billion, making Star Wars the second-highest-grossing media franchise of all time.
In 2012, The Walt Disney Company bought Lucasfilm for US $4.06 billion and earned the distribution rights to all subsequent Star Wars films, beginning with the release of The Force Awakens in 2015. The former distributor, 20th Century Fox, was to retain the physical distribution rights for the first two Star Wars trilogies, was to own permanent rights for the original 1977 film and was to continue to hold the rights for the prequel trilogy and the first two sequels to A New Hope until May 2020. Walt Disney Studios currently owns digital distribution rights to all the Star Wars films, excluding A New Hope. On December 14, 2017, the Walt Disney Company announced its pending acquisition of 21st Century Fox, including the film studio and all distribution rights to A New Hope. Also very popular is prototype Boba Fett Darth Vader Luke Skywalker Mark Hamill Princess Leia Carrie Fisher Han Solo Harrison Ford Jawa Yak Face Power of the Force and more. 
I Mail all items Worldwide by USPS Priority mail Insured with Tracking and a Signature Confirmation. 
Please see my other AFA & CAS JSA Signed Autograph Brady Bunch Gilligan's Island Kenner Action figures Topps gold sketch art Trading cards and Dark Knight Batman Robin Joker Superman Spider-Man Punisher Flash CW Marvel DC Frank Miller Wonder Woman Avengers Thor X-Men GiJoe CGC comic book MOTU Skeletor He-Man Thundercats Transformers Funko Pop Spawn Pin Mandalorian Pee Wee Herman TV & Movie prop 1st shot DVD CD VHS Superbowl Super bowl NFL Marlins Hard Rock Stadium Tickets Miami Heat Chicago Bulls Michael Jordan LeBron James Derek Jeter Reggie Jackson Don Mattingly Aaron Judge Babe Ruth Yogi Berra Mickey Mantle Upper Deck Jersey World Series LA Dodgers Pokémon Shining Fates Pikachu Logan Paul Holo Charizard Elvis Beatles John Lennon Madonna Cher Billy Joel Elton John Rush Prince auctions.