Barracuda Quantum Jump vinyl LP album record UK TRIX3 ELECTRIC 1977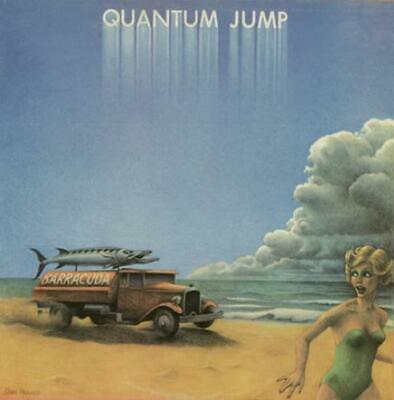 Sold Date: September 27, 2021
Start Date: July 21, 2020
Final Price: £14.95 (GBP)
Seller Feedback: 123197
Buyer Feedback: 0



    ARTIST:QUANTUM JUMPTITLE:BarracudaDESCRIPTION:QUANTUM JUMP Barracuda (1977 UK 8-track LP featuring guest appearances from the Penguin Cafe String Ensemble & Elkie Brooks complete with lyric insert picture sleeve. The sleeve shows minimal shelfwear & the vinyl remains near as new & looks barely played TRIX3)

All items are in excellent to mint condition unless stated otherwise. We have been buying and selling rare records CDs and memorabilia for 25 years and appreciate the importance of condition to collectors. Consequently we are very happy to answer any specific questions you may have about condition : we want you to be completely satisfied with your purchase. We are experienced in shipping worldwide and your order will be packed carefully to ensure it arrives in pristine condition.
[390020 - E07U - FP]
Contact us if you want to see more images
  UK £0.00, extra copies add £0 per item.
UK Parcel Force 48 hour £9.50, extra copies add £9.50 per item.
UK Parcel Force 48 hour £9.50, extra copies add £9.50 per item.
EUROPE £1.30, extra copies add £1 per item.
USA £1.55, extra copies add £1 per item.
REST OF WORLD [INC CANADA] £4.65, extra copies add £2.1 per item.
Please contact us for more details.
For alternative delivery services please contact us. All orders are despatched on the same day if placed before 1pm GMT [Monday to Friday]. Please note that we do not sell through ebay to: Argentina, Chile, South Africa, Brazil, Mexico, Indonesia, Russia, Belarus, Ukraine or Romania. Eil is proud of the exceptional customer service that we have been providing to collectors for over 25 years.

We"re committed to selling quality collectables that we hope you"ll enjoy, but we understand very occasionally you may need to return your purchase. Our experienced team of fellow collectors will respond rapidly and professionally to any questions you have and ensure your order is handled attentively. Please contact us directly for assistance.

All orders from eil carry the assurance of our 100% satisfaction guarantee. If there is a problem with an item you have purchased, please let us know in person so we can work together to resolve any issues quickly and satisfactorily. We want you to be very happy with your purchase.

Buyers: Please beware of other sellers using the EIL name. Only listings using the seller ID eil_esprit are genuine.

TRACKLISTING:1. Dont Look Now
2. The Seance
3. Barracuda
4. Starbright Park
5. Love Crossed (Like Vines In Our Eyes)
6. Blue Mountain (Aloha Green Sea)
7. Europe On A Dollar A Day
8. NeighboursFORMAT:Vinyl LPRECORD LABEL:ElectricCATALOGUE No:TRIX3COUNTRY:UKYEAR:1977ADDITIONAL INFO:DeletedBARCODE:N/AALTERNATIVE ARTIST NAMES:N/Aeil outlet [part of Esprit International Limited / EILare the world"s largest retailer for rare, used and hard to find vinyl, CD"s and music collectibles from the 60s, 70s, 80, 90s through to today,
We have offices near London in the UK, Las Vegas in the USA, Hiroshima in Japan. We ship globally every day and have been serving music fans and musiccollectors since 1986. Contact us and we will do our best to help.  
Pay instantly with your debit or credit card through PayPal.