Radio Show: LIVE FROM GILLEY'S LACY J DALTON #85-40 LIVE IN CONCERT 13 TUNES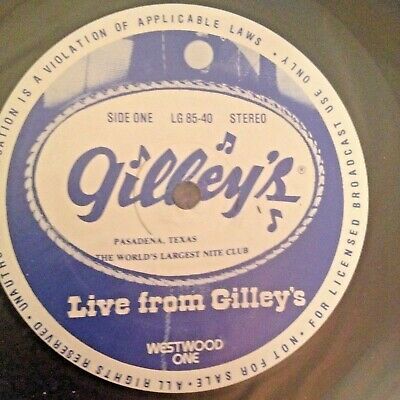 Sold Date: September 27, 2021
Start Date: November 16, 2019
Final Price: $42.99 (USD)
Seller Feedback: 8644
Buyer Feedback: 0

WELCOME EVERYONE TO KEITH'S KOLLECTABLES, ONE OF EBAY'S PREMIERE BUYERS AND SELLERS OF PRISTINE RADIO SHOWS OF EVERY GENRE ALONG WITH OTHER GREAT RARE AND UNIQUE AMERICANA.
PLEASE REMEMBER MY SPECIAL OFFER TO FELLOW COLLECTORS.  IF YOU BUY FIVE OR MORE ITEMS FROM MY STORE AT ONE TIME, EBAY WILL DISCOUNT YOUR TOTAL BY 20% WHEN YOU CHECK OUT AUTOMATICALLY.  IT IS THE LEAST I CAN DO FOR EVERYONE WHO LOOKS FOR GREAT DEALS JUST AS I DO.
NOW, THIS IS ONE OF THE RAREST AND MOST POPULAR RADIO SHOWS THAT EVER AIRED.  IT FEATURED LIVE PERFORMANCES FROM THE GREATEST ARTISTS AND GROUPS IN COUNTRY. READ ON AND BE AMAZED!
SO HERE ARE THE BIG QUESTIONS: 
 WHAT IS A RADIO SHOW? 
 WHY COLLECT THEM? 
 WHERE DO THEY COME FROM? 
Well, those are good questions, especially if you have never known of them. 
First allow me tell you my own personal story of discovering the wonder of radio shows.
  I discovered radio shows quite by accident while reading one of my favorite (long since departed) magazines called "Discoveries" (It was later bought by the same company that publishes "Goldmine" which I personally always considered a lesser publication, but that is another story.
  This was before ebay became the driving force in radio show sales (and everything else) in the later 1990's.
 I was especially attracted in "Discoveries" to a two page (or more) spread in each issue by a guy called "The Old Hippie". 
 Let me tell you, the Old Hippie had it all.  He was a real pioneer.  Way before anyone knew what radio shows even were let alone that they could be bought as rarities, he had the market cornered.
Most shows that he advertised were way beyond my budget but I drooled over those pages every issue and once in awhile I could afford one or two. 
 Now, I have attempted in my own humble way to take on the mantle of "The Old Hippie".  I have listed over 10,000 unique radio shows of all genres for you all to drool over, and most at prices, hopefully, that collectors can better afford!  I want to make available to collectors what I could not afford and especially in these days of higher prices and lesser availability.
Radio shows are harder and harder to find in quantity and the prices for the ones still out there just go higher and higher as they disappear from the market.  However, because of my large presence on eBay, I am always being contacted with selling offers, some of which I take advantage of and some I have to pass on because of the prices. I have found that by buying in bulk, even when many or most of the shows are lesser known but still amazing shows, I can offer the best prices on all titles.
 So, again, what is a radio show?  
  Radio Shows are syndicated productions by one of several large and small distributors who supply broadcast product to radio stations normally during weekends when the usual air personalities have a break. 
 Many air on Saturday or Sunday evenings or during overnight segments.  They often feature some of the best known voices for their genre from across the country thus the Dick Clark's and Casey Kasem's and Rick Dees and Dick Bartley and so many others. 
 People collect them for various reasons. 
 Some just collect the series because they like it and want them all. 
 Some collect their favorite artists or genre of music.  Rather than an album by the artist or a compilation bought at Wal Mart or wherever, they have a unique presentation of their favorite artist or music not available anywhere else and often with dj presentation which is very entertaining. 
 Some collect interviews with their favorite artists as most shows had interview segments.  
Some collect commercials especially old car commercials but certainly not limited to only those.
  AND, these shows are in limited quantity. 
 They were pressed just for syndicated stations and many have just a few in circulation.  Some of the more popular shows may have as many as a few hundred of each week's show that survived but think about it.  A few hundred for some 200 million Americans and millions of overseas collectors who look for unique presentations of their favorite artists or form of music. 
Many radio stations just tossed them away after airing because they could never be aired again due to the time limited commercials and the limited storage space at most radio stations (believe me I know, I work at one!)
SO they are increasingly hard to find. 
 They were first distributed on reel to reel tape if the show goes back that far into the 60's, then later on lp, later on CD and even later (after 2000 for most shows) on CDR.  Now they are not available at all to collectors since they are distributed by digital download much like you get your music from iTunes. 
 These shows become rarer and rarer every day because the people who buy them hold on to them and the people who sell them, like me, are running out of them.   My best contact for these shows is out and I am now at the mercy of finding a good deal here and there but never from a regular source.  The shows that you get now and hold on to will never decrease in value and only increase. 
  I have prided myself since the start to provide the best and fairest cost with a no holds barred guarantee that you will be happy or I refund your money.  I sell them for near what I bought them for.  I give volume discounts and discount postage always.  As the postal service increases their rates, my shipping rates over the years has decreased. 
 And, I have one of the biggest radio show libraries in the world consisting of over ten thousand shows, so many that I don't even know all that I have and am sometimes amazed when I go to look for one show and find another that I did not realize I had.  
 Finally, it is Americana at its best.
  Whether the show be from the 60's or 2000's, rock, countdown, oldies, country, classical, religious, jazz or big band, it is unique and home grown.  And you just can't find them anywhere.  Even record stores that still exist will rarely have any.  
 Radio shows are wonderful representations of the real golden age of radio at least music wise.  And every  one you buy is  an original, not a copy, not a remake - all limited editions in the hundreds at most and many much less.  Once you get hooked, like me, it is a love affair for life!    Welcome to the Club! 
     This show, for all you vinyl lovers, and there are a bunch out there judging by the number of you that have responded to my rare and old vinyl radio show sales, is a rare vinyl that you will rarely find on eBay ever.   
  It is called  LIVE FROM GILLEY'S   and aired on the WESTWOOD ONE RADIO NETWORKS. 
  It was an enormously popular show in its day and sells for up to $40 each on ebay, mostly available through overseas sellers who have accumulated them for their own collections over the years. 
 It featured LIVE PERFORMANCES FROM THE FAMOUS GILLEY'S with each show devoted to one artist for the whole hour. 
 Below is a brief history of this most famous club.
In 1970, a club owner in Pasadena, Texas named Sherwood Cryer teamed up with country singer Mickey Gilley, and decided to reopen a club he owned that had previously been named Shelley's.
 The club was almost immediately successful, and grew in popularity, as did Mickey Gilley's music, over the next few years. The huge honky tonk drew crowds of people throughout the week, becoming a home away from home for many of the area's residents who worked in nearby refineries and at other jobs before heading to Gilley's Club to dance, drink, and try to find love, or a reasonable approximation of it, somewhere across the vast expanse of the club's concrete floor.
 One time regular Paul Wagner described the place with a mixture of nostalgia tempered with memories of the club's shortcomings.
"It was almost like a huge barn. The bathrooms were always filthy, and it was hot a lot of the time. I worked at a gas station over on South Shaver, and would head to Gilley's after work sometimes. I loved the place, but you had to watch your step, it didn't take much to get in a fight there.
"Gilley's Club's reputation as an enormous rough and tumble honky tonk eventually got Hollywood's attention, and in 1979 a big budget movie production rolled into Pasadena to make a film heavily featuring the night club, and starring John Travolta and Debra Winger.And for awhile, "Urban Cowboy" made hanging out at places like Gilley's cool to a newer kind of crowd.
 A majority of the club's earlier regulars, many of which ended up in the film, moved on, displaced by upscale invaders brought in by a new trendiness for honky tonks the film had created.
 Paul Wagner remembers not enjoying the changes that "Urban Cowboy" brought on when it was released."Most of the people who used to hang out at clubs like Gilley's were like me, working class folks just looking for a place to hang out and drink a few beers. After the movie came out, things were just different, and not just at Gilley's. The people changed, and a lot of us just quit going out like we used to."For better or for worse, 
Gilley's Pasadena location trudged on for a few more years, while a bust in the oil industry brought a downward turn for the Houston area and Pasadena's refineries. In the late '80s, a contentious feud between Mickey Gilley and Sherwood Cryer led to the club being closed, before it was gutted by an intentionally set fire in 1990, bringing an effective end to an era of urban cowboys and mechanical bulls.
AFTER THE CLOSING AND FIRE AT GILLEY'S, THE SERIES ON WESTWOOD ONE CONTINUED AS 'WESTWOOD ONE PRESENTS' WHICH IS ALSO AVAILABLE IN MY EBAY STORE FOR COLLECTORS.  
THE VENUES THEN WERE SHIFTED FROM GILLEY'S TO LOCATIONS AROUND THE COUNTRY.
  ALL THESE SHOWS FROM GILLEY'S TO ITS SUCCESSOR, ARE RARE AND EXTREMELY LOOKED FOR BY COLLECTORS BECAUSE THESE PERFORMANCES ARE NOT AVAILABLE ELSEWHERE AND ESPECIALLY ON VINYL. 
    IT IS AN HOUR LIVE TRIBUTE TO ALL YOUR FAVORITE ARTISTS.  
   It comes with its cue sheet in excellent condition and the vinyl disc itself is immaculate  like new.  This show probably was played on the day it aired and not since, 34 or more years later. 
     Each show contained from 11 - 16 tunes LIVE FROM YOUR FAVORITE ARTISTS.  It is an enthralling hour that will captivate you.  You will be disappointed when it is over and want even more!  
    THIS WEEK'S GUEST ON LIVE WITH GILLEY'S WAS LACY J DALTON. 
I HAVE MOST OF THE SHOWS FROM THIS SERIES AND WILL BE LISTING THEM UNTIL THEY ARE GONE.  MOST OF YOUR FAVORITE ARTISTS ARE REPRESENTED.
 This show IS SHOW #85-40
  THERE ARE NO CUE SHEETS WITH THIS SHOW BUT YOU CAN MAKE YOUR OWN AS YOU LISTEN TO GREAT LIVE PERFORMANCE AFTER GREAT LIVE PERFORMANCE.      
             It is a great show.         It is a great hour.  The music is  MEMORABLE!  
   AND BEST OF ALL LIVE!!!!
YOU WILL HEAR CONCERT PERFORMANCES NOT AVAILABLE ANYWHERE ELSE AND IN BEAUTIFUL VINYL PERFECTION. 
         Remember, when you buy this show, not only will you own the tunes but also interspersed between songs is fascinating commentary on the artists and songs.  
  Also, keep in mind that this and all  shows are not just about the music - the music can be found anywhere.  It is the mixture of great music and great announcing that makes it so entertaining. 
 As well, it is a piece of radio history.  You just aren't going to find these shows anymore.  Think of what they will be worth in a few years!  (IF you wanted to sell.)  I am selling to share with other music lovers what I was able to get at a reasonable price  
 Most people even enjoy the national commercials that are included on the show because some 34 years later they sound good!      Some people buy the shows for the commercials  they collect!  Either way, it is a great show and would be a valuable addition to your collection
Good Luck and God Bless You.