Sonny Red Blue Note 4032 mono LP 47 W 63rd ear 9M Van Gelder DG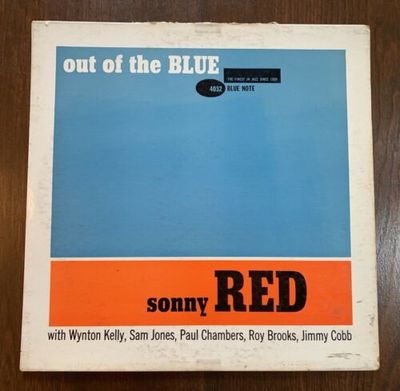 Sold Date: July 3, 2019
Start Date: June 26, 2019
Final Price: $380.00 (USD)
Bid Count: 25
Seller Feedback: 316
Buyer Feedback: 336

Sonny Red - Out of the Blue - Blue Note BLP 4032 vinyl LP (1960)
First original mono pressing with 47 W. 63rd deep groove label, and 9M, the Plastylite "ear" and RVG in the matrix.
Super heavy vinyl!  218 grams! The real deal.
Vinyl: VG shiny with sleeve scuffs and marks
Jacket: VG shelf wear, some splitting on top middle, prior owner's name on back, sharp spine, heavy laminated jacket
Comes in a MoFi audiophile sleeve
I try my best to grade accurately.  Despite the many overinflated "Mint" auction listings, in reality there are very few truly collectible LPs out there, especially LPs from the '50s and '60s.  If a copy I have listed is NM or EX and collectible, I will designate it as such.  Otherwise, the vast majority of my listings are very nice, often rare, records in good listening shape that have been listened to and handled.
My vinyl grading scale:
NM: clean, collectible copy, very rare EX: mostly clean, has been listened to and handled, but not NM VG+ : some unfeelable marks and scuffs, plays well with some occasional background noise in quiet spots.   VG: marks and scuffs, perhaps a few that are very lightly feelable.  A good listening copy, enjoyable, plays with occasional background noise and maybe a click or two.  This is the most common record grade of record I sell.   VG- : lots of marks and scuffs, some feelable, will play with some background noise and perhaps some clicks.  But still enjoyable. G: lots of marks, many feelable.  I will only sell this grade if the LP is truly collectible and/or it has a particularly nice jacket.
I will combine shipping.  If you buy multiple items, please wait for an invoice.
International sellers - shipping to Western Europe and Japan is about $25.  Please wait for an invoice after paying.  Thanks!