METALLICA - ...And Justice For All (Box Set) [VINYL, LIKE-NEW]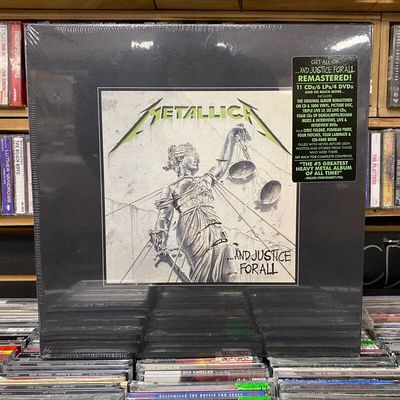 Sold Date: March 17, 2023
Start Date: March 16, 2023
Final Price: $429.99 (USD)
Seller Feedback: 19671
Buyer Feedback: 0

METALLICA - ...And Justice For All (Box Set)
Limited edition deluxe numbered box set of …And Justice for All includes the album remastered on 180-gram double LP and CD, three live LPs, picture disc, eleven CDs + four DVDs featuring unreleased content, MP3 download card of all audio, tour laminate, set of four patches, Pushead print, lyric folder and sheets, and a 120-page hardcover book with never-before-seen photos + stories.
Numbered 19135 out of 30000.
There is a very small opening in the shrink-wrap. Apart from that, it is completely sealed and brand new. 
[VINYL, NEW] SEALED!!!

Ships via USPS Media mail for FREE to customers within the USA!!!

Please check out our store for more Vinyl, CDs, Cassettes, DVDs, Blu-Rays, Memorabilia, and more!!!